1928 20 Dollar Bill Value: How Much Are These US $20 Notes Worth?
The 1928 20 dollar bill, whether a Federal Reserve Note or Gold Certificate is almost certainly going to be worth more than face value.
If you are lucky enough to own one of these notes, especially one of the more rare banks in uncirculated condition or a star variety, it could be quite valuable depending on the series.
On average a 1928 $20 bill is worth $50 for a Very Fine (20-35), $80 for an Extra Fine (40-45), and $300 for a Choice CU (63).
Of course these estimates are only a guide. If you are planning to sell old currency, always seek professional advice.
1928 Twenty Dollar Bill Value Chart
| Series | VF-20 | EF-40 | Unc-63 |
| --- | --- | --- | --- |
| 1928 | $50 | $80 | $300 |
| 1928* | $400 | $750 | $2000 |
| 1928A | $70 | $100 | $625 |
| 1928A* | $1500 | $2250 | $5500 |
| 1928B | $40 | $55 | $125 |
| 1928B* | $200 | $350 | $1650 |
| 1928C | $500 | $750 | $4500 |
1928 20 Dollar Bill Serial Number Lookup
Series: 1928, 1928A, 1928B, 1928C
Denomination: $20 USD
Seal Varieties: (2) Green, Gold
Signature Varieties: (3) Tate - Mellon, Woods - Mellon, Woods - Mills
Regular Varieties: (12) Boston (A), New York (B), Philadelphia (C), Cleveland (D), Richmond (E), Atlanta (F), Chicago (G), St. Louis (H), Minneapolis (I), Kansas City (J), Dallas (K), San Francisco (L)
Star Note Varieties: (12) Boston (A), New York (B), Philadelphia (C), Cleveland (D), Richmond (E), Atlanta (F), Chicago (G), St. Louis (H), Minneapolis (I), Kansas City (J), Dallas (K), San Francisco (L)
Regular Notes: 67,580,108, 10,210,000-A, 95,172,188-B, 4,783,500-C
Regular Star Notes: Unknown
For example, let's look at a $20 Federal Reserve Note from 1928 with a serial number (SN) G23910975A.
It also happens to be a C series note which makes it more rare because as you can see above, only 4,783,500 were created.
The G at the start of the SN means it was issued for the Federal Reserve Bank of Chicago.
Then there is the 8 digit number followed by the letter A which means it was part of the first block.
If there was a star at the end of the SN, it would make it even more collectible as these are even more rare.
Although there aren't any C series star notes known to exist, so it could be a fake.
Paper Money Fancy Serial Numbers
Fancy serial numbers can increase the value of your banknote as long as it's in good condition to start with.
Here's a list of fancy SN types to look out for:
Low Serial Numbers: Bills with serial numbers that are low in sequence, such as D00000001A or F00000010A, are often considered more desirable.
Radar Numbers: Radar numbers have a symmetrical pattern where the SN reads the same backward and forward, like G12344321A.
Solid Numbers: Solid numbers have all identical digits, such as B11111111A or D99999999A.
Ladder Numbers: Ladder numbers have consecutive digits in ascending or descending order, like B12345678A or D98765432B.
1928 Twenty Dollar Star Notes
Star notes are a special type of banknote that was used to replace damaged or misprinted regular notes during the printing process.
They are identified by a star symbol (★) at the beginning or end of the serial number.
The purpose of star notes was to maintain the correct sequence of serial numbers without having to discard misprinted or damaged bills.
I'm not sure how many star replacement notes were created for the 1928 series, however as you can see from the table above, they are worth somewhat more than regular notes.
Star notes were printed for the series of 1928, 1928A and 1928B. It is unknown whether any were used for 1928C.
What Does A 1928 Series $20 Dollar Bank Note Look Like?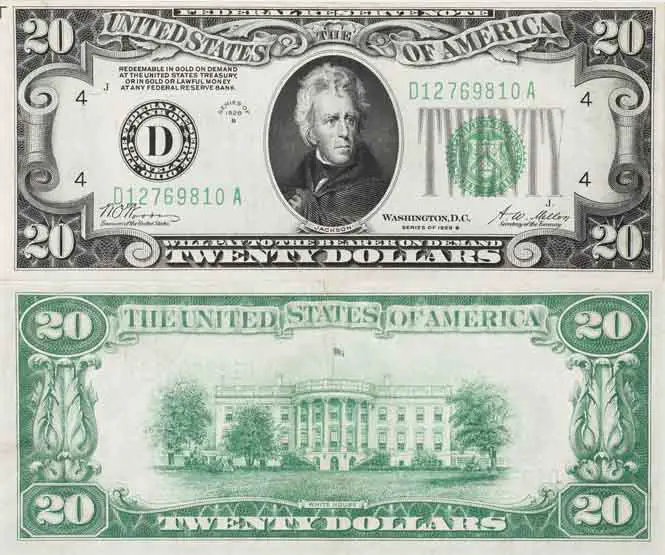 Image Courtesy of National Numismatic Collection at the Smithsonian Institution (Unedited CC)
The face of the $20 Federal Reserve Note has a portrait of the seventh president of the United States, Andrew Jackson.
To the right of the image is the green treasury seal with Twenty written over it in large letters.
You will also see the serial number at the top right and bottom left as well as the series number on the bottom right and the top left beside the obligation.
Obligation
The obligation reads: REDEEMABLE IN GOLD ON DEMAND AT THE UNITED STATES TREASURY, OR IN GOLD OR LAWFUL MONEY AT ANY FEDERAL RESERVE BANK.
Below this is the Federal Reserve Bank seal with branch ID in letter form. This only started with the series B. The series before this were numeric.
Also on the bottom left is the Treasurer of the United States signature and on the bottom right is the signature of the Secretary of the Treasury.
The Series of 1928 was signed by Tate and Mellon and both regular and star notes were issued by all Federal Reserve Banks.
The Dallas star note is particularly valuable with a VF-20 being worth $1750.
1928A
The Series of 1928A was signed by Woods and Mellon and issued by all FRB's except Minneapolis (I) and San Francisco (L).
Both these series had district bank numbers in the black seal on the face, as opposed to letters.
The Philadelphia star note is one of the most rare and sought after of this series and is worth $3000 at grade VF-20.
1928B
The Series of 1928B was signed by Woods and Mellon and was issued by all Federal Reserve Banks.
There were over 95 million of these regular notes issued making them the least valued among collectors, although the Philadelphia star in still worth $2000 at VF-20.
This series also comes with both dark and light green seals.
1928C
Lastly the Series of 1928C was signed by Woods and Mills and were only issued by the FRB's of Chicago (G) and San Francisco (L).
New Small Size Federal Reserve Note
This was the first year that the new small sized Federal Reserve Note was produced.
This note replaced the earlier large-sized note, which was in circulation for the Series of 1914.
In order to reduce manufacturing costs, all Federal Reserve Notes from 1928 onwards were made around 30% smaller.
The new small size FRN measures 6.14 x 2.61 inches compared the previous size of 7.375 x 3.125 inches.
1928 $20 Gold Certificate Value
This series note is one of the most common gold certificates, but its availability in high grade condition and star note variety is more limited.
| Series | Friedberg | VF-20 | EF-40 | Unc-63 |
| --- | --- | --- | --- | --- |
| 1928 | F-2402 | $150 | $325 | $700 |
| 1928* | F-2402* | $750 | $1250 | $7250 |
| 1928A | F-2403 | Not Issued | Not Issued | Not Issued |
The design of this twenty dollar Gold Certificate is distinct and elegant. The obverse, or front side, features a portrait of Andrew Jackson.
It also includes a serial number on each side of the portrait, unique to each bill, and a Gold seal.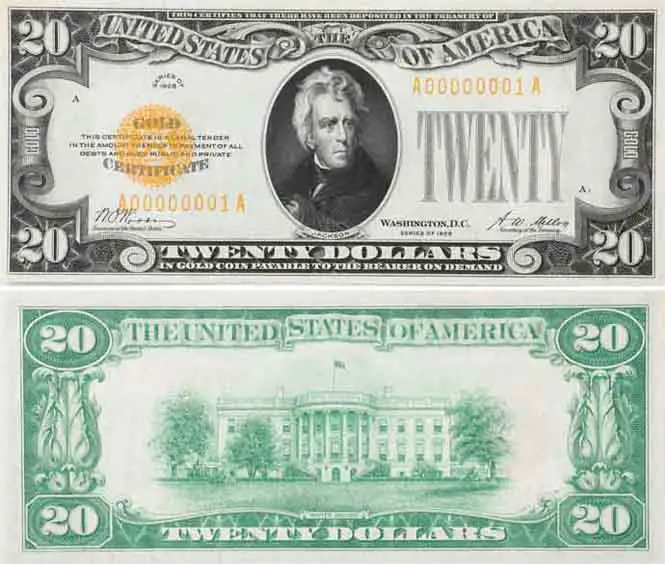 Image Courtesy of National Numismatic Collection at the Smithsonian Institution (Unedited CC)
The obligation reads: THIS CERTIFICATE IS A LEGAL TENDER IN THE AMOUNT THEREOF IN PAYMENT OF ALL DEBTS AND DUES PUBLIC AND PRIVATE
Along the top of the bill is written: THIS CERTIFIES THAT THERE HAVE BEEN DEPOSITED IN THE TREASURY OF THE UNITED STATES OF AMERICA TWENTY DOLLARS IN GOLD COIN PAYABLE TO THE BEARER ON DEMAND.
The back features an image of the Whitehouse similar to other twenty dollar Federal Reserve Notes.
How To Tell If A 1928 Series 20 Dollar Bill Is Real Or Fake
United States bank notes prior to the series of 1990 didn't have many security features.
The sole security feature present on a 1928 series $20 bill is known as "raised printing."
'Raised printing' is precisely what it sounds like: a production technique that creates a tactile, elevated texture.
You can detect raised printing by running your fingers across the surface of the bill. It's what imparts that distinctive texture to currency.
This security feature found on U.S. currency is currently crafted through an intricate process called intaglio printing.
In this method, engravings on steel plates are meticulously pressed onto specialized paper, resulting in the unique tactile quality of certain areas.
Return from 1928 20 Dollar Bill to LostTreasureHQ
Would You Like To Receive More Exciting News And Information About Coin Collecting Direct To Your Inbox?
Subscribe To My Free Newsletter Below!