Top 17 Most Valuable Wheat Pennies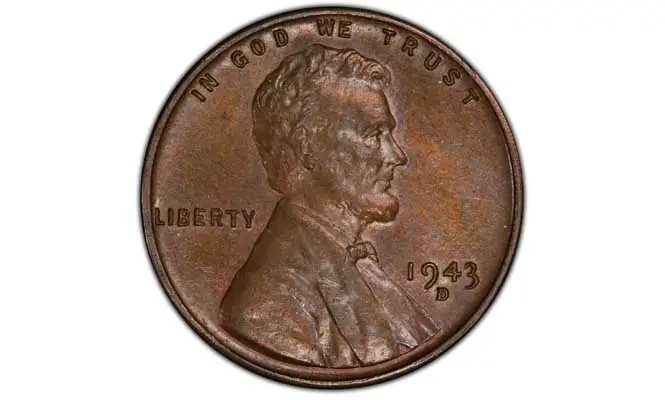 Image Source: USA Coinbook
Did you know that the top 17 most valuable Wheat pennies all add up to just over $5,500,000 in value and each one is worth at least $100,000?
These United States one cents coins all sold at auction for record prices, however the most valuable Lincoln Wheat cents were sold privately to anonymous buyers from United States in 2010 and 2018.
You might notice that quite a few of these valuable wheat pennies are from 1943 & 1944. That's because they are the most rare dates due to a mistake in the minting process in those years.
In fact, the most valuable wheat penny is a 'one of a kind' from the Denver mint making it super rare and very valuable to own. Read more about it below.
Valuable Wheat Pennies Over $100,000
#17) 1914 S Lincoln Wheat Cent (Bronze)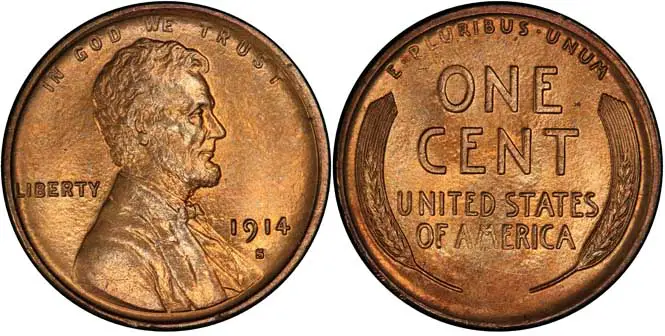 Image Source: PCGS
Designer: Victor David Brenner
Mint: San Francisco (S)
Metal Composition: 95% Copper - 5% Tin & Zinc
Diameter: 19mm
Weight: 3.11 grams
Mintage: 4,137,000
Value: $105,800 (MS66RD)
This is a good example of a low minted coin and that's why it sold for such a hefty price tag.
The 1914 S is the 7th lowest minted Lincoln Wheat Cent and this MS66RD represents one of the best quality versions of this coin that still exists uncirculated.
#16) 1955 Lincoln Wheat Cent (Doubled Die Obverse)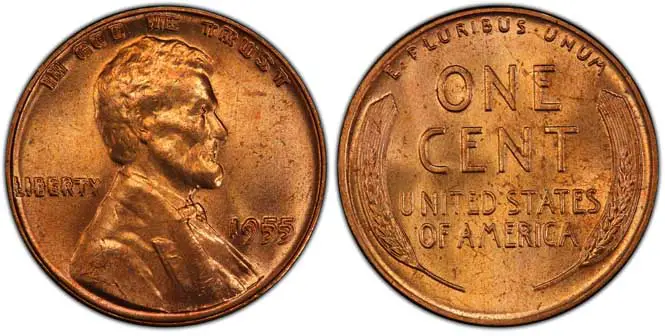 Image Source: PCGS
Designer: Victor David Brenner
Mint: Philadelphia (No Mint Mark)
Metal Composition: 95% Copper - 5% Tin & Zinc
Diameter: 19mm
Weight: 3.11 grams
Mintage: 33,058,000
Value: $114,000 (MS65+RD)
This is probably the finest example of the 1955 Doubled Die Obverse Cent.
Coming from the Philadephia Mint where the dies are the highest quality, you can see clearly with the naked eye the well defined obverse doubling.
Out of the 33,058,000 wheat cents that were minted in Philadelphia in 1955, around 40,000 of these mint errors were pressed.
Many of these errors were discovered and destroyed by the press inspector, however around 24,000 had already mixed in with the overall output for that day before he noticed the errored batch.
These 24,000 were bagged and released into the Federal Reserve System and started appearing in banks around Boston and New York.
It is estimated that only 3000 to 4000, 1955 Doubled Die Obverse pennies, still exist today.
As there are many counterfeits, it's highly recommended that you only buy a cent certified by a leading authority.
#15) 1944 D Lincoln Wheat Cent (Steel)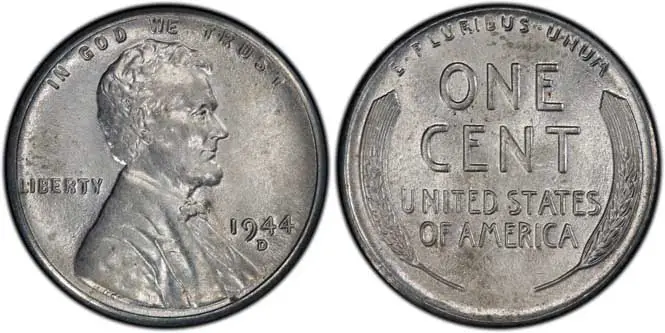 Image Source: PCGS
Designer: Victor David Brenner
Mint: Denver (D)
Metal Composition: Zinc coated Steel
Diameter: 19mm
Weight: 2.7 grams
Mintage: 7
Value: $115,000 (MS63)
The 1944 D Wheat Cent is one of the rarest Lincoln pennies that numismatics can collect. It is thought that only seven exist making it highly valuable.
They are significant because steel wheat cents were only supposed to be produced in 1943.
When Denver started to mint 1944 pennies, they were supposed to be made from the bronze (shellcase) alloy of 95% copper and 5% tin. The metal came from recycled shell casings during the war and no zinc was used in the minting process again until after 1946.
Some leftover zinc-coated steel plancets were still in the presses from 1943 when the new 1944 dies and bronze plancets were installed.
The silver colored wheat pennies made their way out of the mint and into circulation with the other bronze colored 1944 wheat cents.
They are known as off-metal error cents and the same also happened in 1943 except then it was bronze cents that were mint errors instead of steel cents.
#14) 1909 S VDB Lincoln Wheat Cent (Bronze)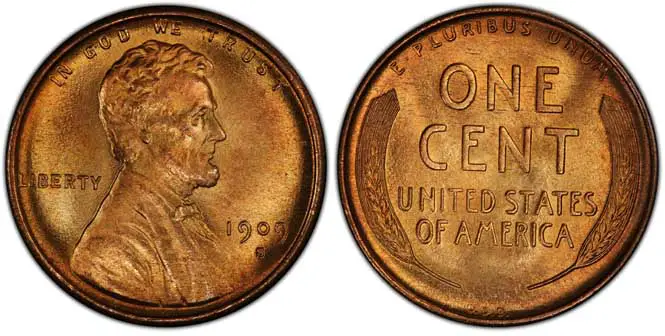 Image Source: PCGS
Designer: Victor David Brenner
Mint: San Francisco (S)
Metal Composition: 95% Copper - 5% Tin & Zinc
Diameter: 19mm
Weight: 3.11 grams
Mintage: 484,000
Value: $117,500 (MS67RD)
#13) 1917 Lincoln Wheat Cent (Doubled Die Obverse)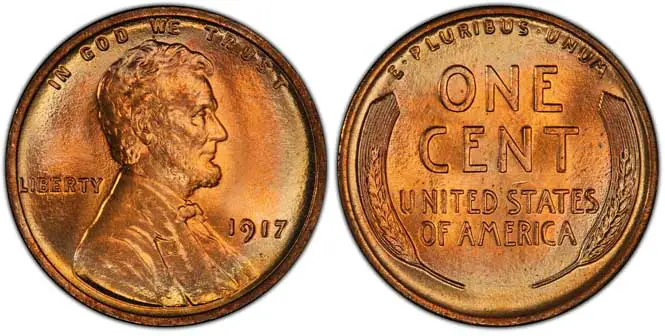 Image Source: PCGS
Designer: Victor David Brenner
Mint: Philadelphia (No Mint Mark)
Metal Composition: 95% Copper - 5% Tin & Zinc
Diameter: 19mm
Weight: 3.11 grams
Mintage: 196,429,785
Value: $120,000 (MS67+RD)
#12) 1926 S Lincoln Wheat Cent (Bronze)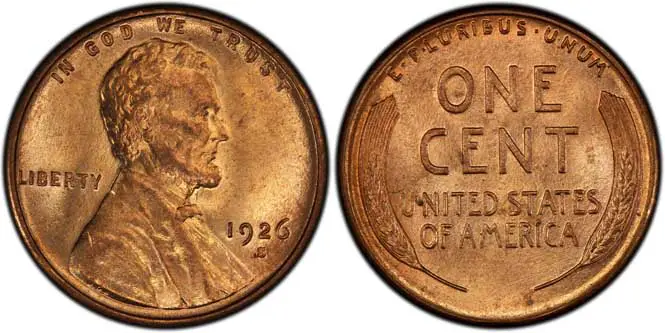 Image Source: PCGS
Designer: Victor David Brenner
Mint: San Francisco (S)
Metal Composition: 95% Copper - 5% Tin & Zinc
Diameter: 19mm
Weight: 3.11 grams
Mintage: 4,550,000
Value: $149,500 (MS65RD)
#11) 1914 D Lincoln Wheat Cent (Bronze)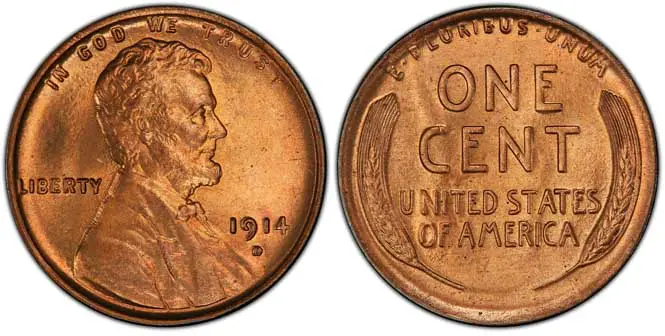 Image Source: PCGS
Designer: Victor David Brenner
Mint: Denver (D)
Metal Composition: 95% Copper - 5% Tin & Zinc
Diameter: 19mm
Weight: 3.11 grams
Mintage: 1,193,000
Value: $158,625 (MS66+RD)
#10) 1944 Lincoln Wheat Cent (Steel)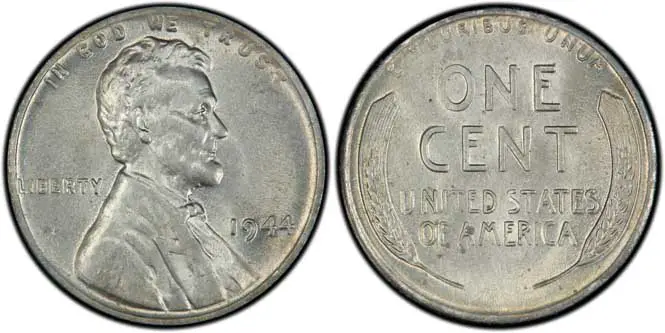 Image Source: PCGS
Designer: Victor David Brenner
Mint: Philadelphia (No Mint Mark)
Metal Composition: Zinc coated Steel
Diameter: 19mm
Weight: 2.7 grams
Mintage: 30
Value: $158,625 (MS64)
#9) 1943 Lincoln Wheat Cent (Bronze)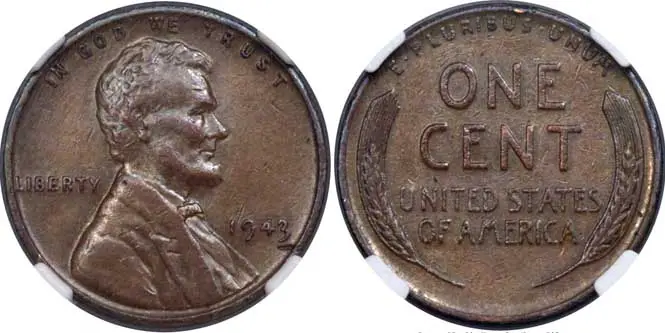 Image Source: Heritage Auctions
Designer: Victor David Brenner
Mint: Philadelphia (No Mint Mark)
Metal Composition: 95% Copper - 5% Tin & Zinc
Diameter: 19mm
Weight: 3.11 grams
Mintage: 20
Value: $204,000 (AU53)
#8) 1943 S Lincoln Wheat Cent (Bronze)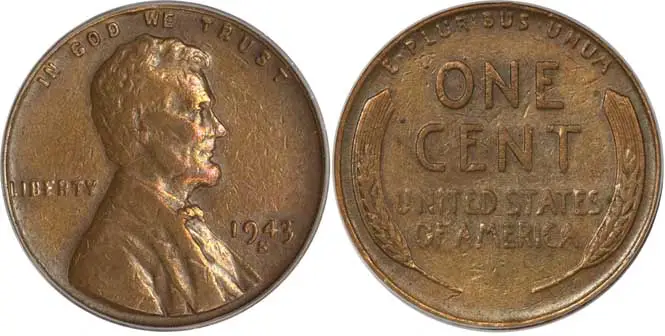 Image Source: Heritage Auctions
Designer: Victor David Brenner
Mint: San Francisco (S)
Metal Composition: 95% Copper - 5% Tin & Zinc
Diameter: 19mm
Weight: 3.11 grams
Mintage: 5
Value: $207,000 (VF35)
#7) 1943 Lincoln Wheat Cent (Bronze)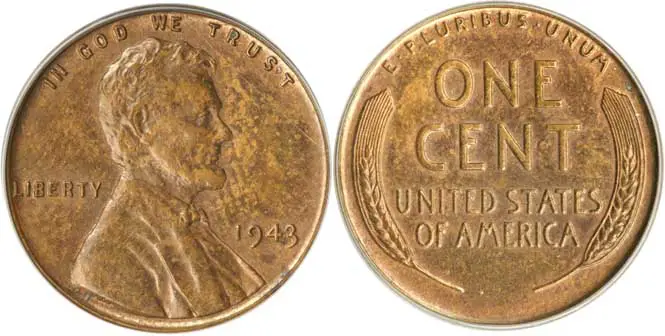 Image Source: Heritage Auctions
Designer: Victor David Brenner
Mint: Philadelphia (No Mint Mark)
Metal Composition: 95% Copper - 5% Tin & Zinc
Diameter: 19mm
Weight: 3.11 grams
Mintage: 20
Value: $218,500 (AU58)
#6) 1943 S Lincoln Wheat Cent (Bronze)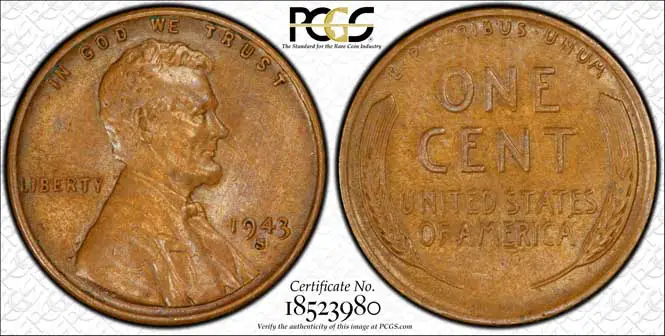 Image Source: PCGS
Designer: Victor David Brenner
Mint: San Francisco (S)
Metal Composition: 95% Copper - 5% Tin & Zinc
Diameter: 19mm
Weight: 3.11 grams
Mintage: 5
Value: $282,000 (AU58BN)
#5) 1943 Lincoln Wheat Cent (Bronze)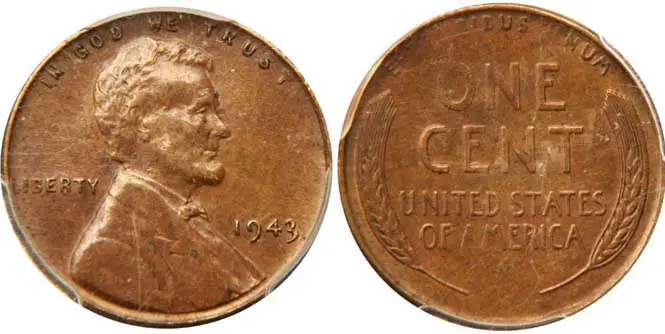 Image Source: PCGS
Designer: Victor David Brenner
Mint: Philadelphia (No Mint Mark)
Metal Composition: 95% Copper - 5% Tin & Zinc
Diameter: 19mm
Weight: 3.11 grams
Mintage: 20
Value: $329,000 (AU55)
#4) 1958 Lincoln Wheat Cent (Doubled Die Obverse)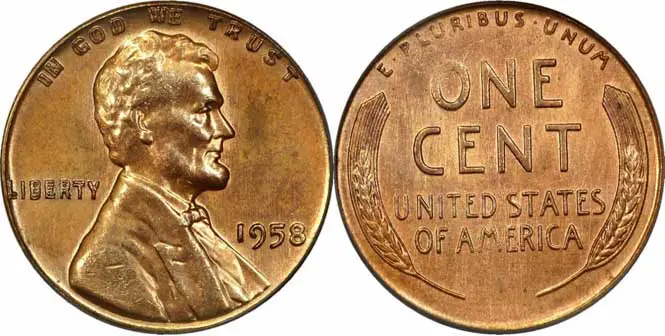 Image Source: PCGS
Designer: Victor David Brenner
Mint: Philadelphia (No Mint Mark)
Metal Composition: 95% Copper - 5% Tin & Zinc
Diameter: 19mm
Weight: 3.11 grams
Mintage: 252,525,000
Value: $336,000 (MS64RD)
#3) 1944 S Lincoln Wheat Cent (Steel)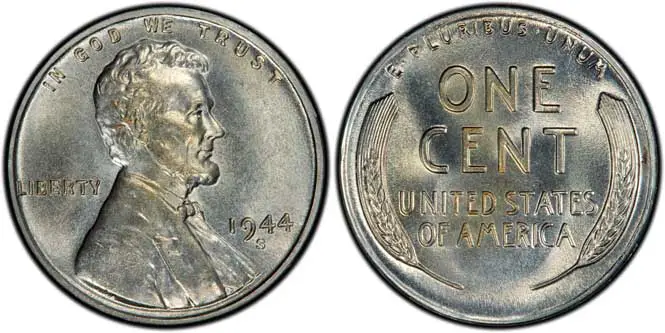 Image Source: PCGS
Designer: Victor David Brenner
Mint: San Francisco (S)
Metal Composition: Zinc coated Steel
Diameter: 19mm
Weight: 2.7 grams
Mintage: 2
Value: $373,750 (MS66)
#2) 1943 Lincoln Wheat Cent (Bronze)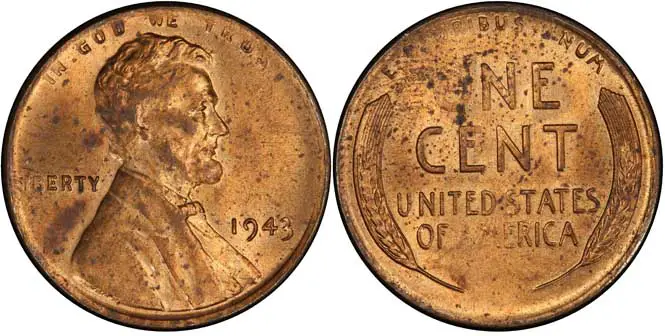 Image Source: PCGS
Designer: Victor David Brenner
Mint: Philadelphia (No Mint Mark)
Metal Composition: 95% Copper - 5% Tin & Zinc
Diameter: 19mm
Weight: 3.11 grams
Mintage: 20
Value: $1,000,000+ (MS63RD)
#1) 1943 D Lincoln Wheat Cent (Bronze)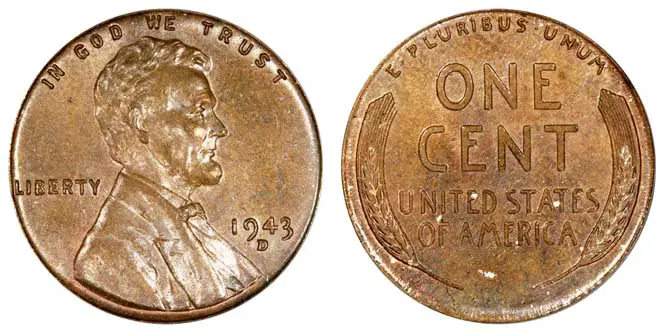 Image Source: USA Coinbook
Designer: Victor David Brenner
Mint: Denver (D)
Metal Composition: 95% Copper - 5% Tin & Zinc
Diameter: 19mm
Weight: 3.11 grams
Mintage: 1
Value: $1,700,000 (MS64BN)