Top 30 Most Valuable Wheat Pennies
Did you know that the top 30 most valuable Wheat pennies to coin collectors all add up to just over $9,000,000 in value and each one is worth at least $100,000 even though they all have a face value of just $0.01?
These United States one cents coins all sold at auction for record prices, however the most valuable Lincoln cents were sold privately to an anonymous buyer from United States in 2010 and 2018.
In later years it was rumoured that the anonymous buyer was in fact Bob Simpson, owner of some of the finest mint condition collectable coins money can buy.
You might notice that quite a few of these valuable wheat pennies worth higher premiums are from 1943 & 1944. That's because they are the most rare dates due to a mistake in the minting process in those years.
In fact, the most valuable wheat penny is a 'one of a kind' from the Denver mint making it super rare and very valuable to own for coin collectors. Read more about it below.
You may also notice that all these Lincoln cent varieties were designed by Victor David Brenner, are 19mm in diameter, and have a bust of Abraham Lincoln on the obverse.
They also weigh approximately 3.11 grams, apart from the steel cents which weigh around 2.7 grams.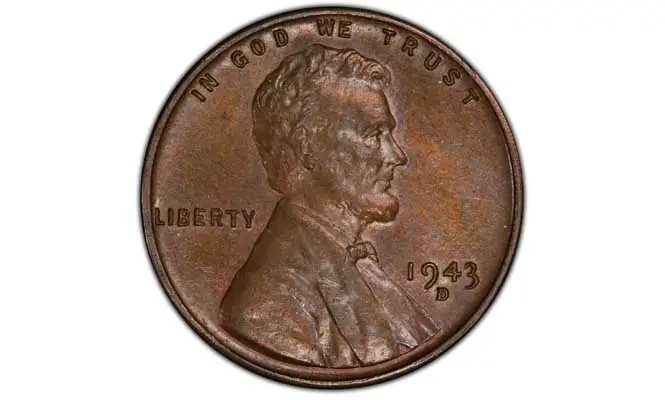 USA Coinbook
Also all wheat pennies apart from those produced in 1943 and during the war years of 1944 to 1946 are made from 95% Copper - 5% Tin & Zinc.
Apart from error coins, wheat pennies produced in 1943 are made from Zinc plated steel. Also, wheat pennies produced from 1944 to 1946 didn't contain tin because it was needed to produce ammunition during World War II.
Another important feature to look out for on these valuable pennies is the mint mark. If a wheat penny has no mint mark, it was minted in Philadelphia.
If it has a S under the date, it was minted in San Francisco and if it has a D under the date, it was minted in Denver.
Here's a list of the top 30 Lincoln wheat penny values for 2023. I've also created a list of the most valuable Indian Head pennies if that interests you also.
Top 30 Most Valuable Wheat Pennies 2023
#30) 1909 S VDB Lincoln Wheat Cent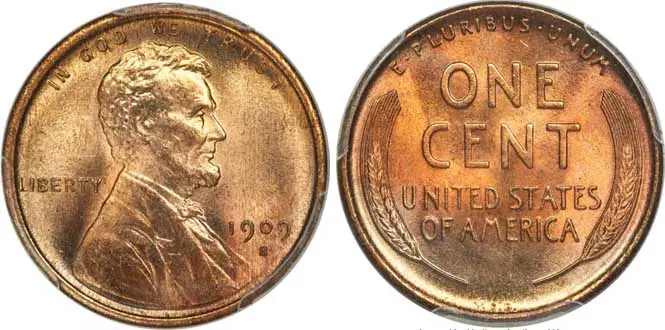 With only 484,000 created by the United States mint, this is one of the finest examples of a 1909 S VDB penny and this coin sold on the 14th January 2022 at Heritage Auctions for $108,000.
This is one of the key dates that every collector of Lincoln Wheat pennies wants in their collection.
The initial batch of 484,000 copper pennies from the San Francisco mint had the initials VDB on the reverse after the designer Victor David Brenner.
This didn't go down well with the general public so the mint removed the initials on all future Lincoln cents that were produced.
As such a small batch of 1909 S VDB pennies were produced, they soon became very popular with collectors.
#29) 1955 Lincoln Wheat Penny (Doubled Die Obverse)
Mintage: 33,058,000
Value: $114,000 (MS65+RD)
This is probably the finest example of the 1955 Doubled Die Obverse Cent.
It sold for $114,000 on 22nd March 2018 at Stack's Bowers.
Coming from the Philadelphia Mint where the dies are the highest quality, you can see clearly with the naked eye the well defined obverse doubling.
Out of the 33,058,000 wheat cents that were minted in Philadelphia in 1955, around 40,000 of these mint errors were pressed.
Many of these errors were discovered and destroyed by the press inspector, however around 24,000 had already mixed in with the overall output for that day before he noticed the errored batch.
These 24,000 were bagged and released into the Federal Reserve System and started appearing in banks around Boston and New York.
It is estimated that only 3000 to 4000, 1955 Doubled Die Obverse pennies, still exist today.
As there are many counterfeits, it's highly recommended that you only buy a cent certified by a leading authority.
#28) 1944 D Lincoln Wheat Cent (Steel)
Mintage: 7
Value: $115,000 (MS63)
Sold for $115,000 at Heritage Auctions on 9th August 2007, this 1944 D Wheat Cent is one of the rarest Lincoln pennies that numismatics can collect.
It is thought that only seven exist making it highly valuable.
This MS63 coin from the Denver mint is probably the finest example of the 1944 D steel penny that survives today.
They are significant because steel wheat cents were only supposed to be produced in 1943.
When Denver started to mint 1944 pennies, they were supposed to be made from the bronze (shell-case) alloy of 95% copper and 5% tin. The metal came from recycled shell casings during the war and no zinc was used in the minting process again until after 1946.
Some leftover zinc-coated steel planchets were still in the presses from 1943 when the new 1944 dies and bronze planchets were installed.
The silver colored wheat pennies made their way out of the mint and into circulation with the other copper colored 1944 wheat cents.
They are known as off-metal error cents and the same also happened in 1943 except then it was copper colored cents that were mint errors instead of steel cents.
#27) 1909 S VDB Lincoln Wheat Penny
Mintage: 484,000
Value: $117,500 (MS67RD)
This is the second example of a 1909 S VDB in our list of the top 30 most valuable Lincoln Wheat pennies.
A similar Mint State 67 Red grade as the previous coin, this cent sold for a record breaking $117,500 at Heritage Auctions on 27th February 2007.
The award winning numismatic authors Jeff Garrett and Ron Guth rank the 1909 S VDB wheat penny as 14th in their list of the Top 100 U.S. Coins.
#26) 1917 Lincoln Wheat Cent (Doubled Die Obverse)
This 1917 doubled die error penny struck in 'Philly' is probably one of the finest known examples of a Doubled Die Obverse error cent from that year.
Around 196,429,785 pennies were struck at the Philadelphia branch of the United States mint in 1917 and a batch of them had doubled die errors.
This specimen graded Mint State 67+ Red by PCGS sold at Stack's Bowers auction on 28th February 2019 for $120,000.
You can see the sharp doubling to the letters in the motto and to the date. The word TRUST is especially prominent.
#25) 1914 Lincoln Wheat Penny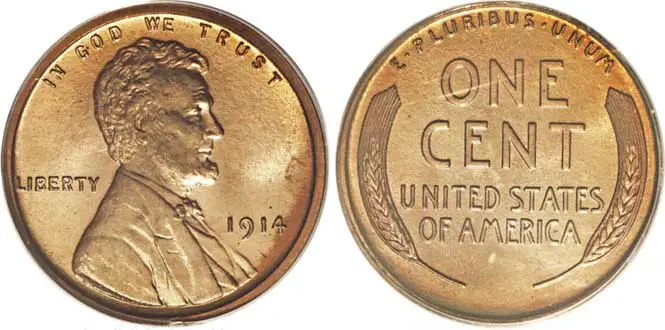 Mintage: 1365
Value: $126,500 (PR68RD)
One of only two proof coins to have made it into our Top 30.
Sold on the 17th April 2008 at Heritage Auctions for $126500, this PR68 Red certified by the Professional Coin Grading Service is one of the finest matte proof Lincoln wheat cents available.
You can really see the detail around Lincoln's shoulder, eyes, ears and mouth on this high quality 1914 penny.
#24) 1926 S Lincoln Wheat Cent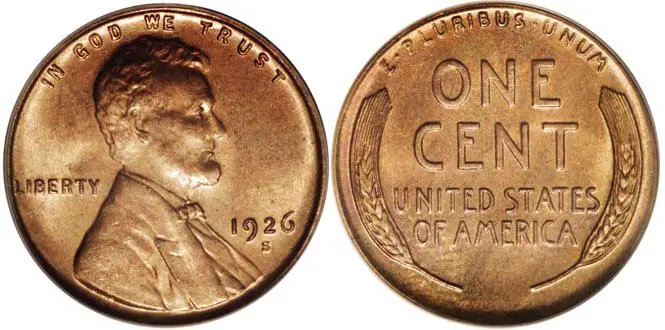 Mintage: 4,550,000
Value: $149,500 (MS65RD)
The single finest certified wheatie of its kind. This 1926 S sold for $149500 at Heritage Auctions on 5th January 2006.
It achieved such as high selling price because of its unique quality and color.
There are plenty of well worn 1926 S cents available to collectors, however any uncirculated coins, Mint State and above, are considered a rarity especially if they're red.
A MS65 Red is considered the best of the best for a 1926 S.
#23) 1914 D Lincoln Wheat Penny
Mintage: 1,193,000
Value: $158,625 (MS66+RD)
This is a good example of a low minted coin and that's why it sold for such a hefty price tag.
The 1914 D is one of the top 10 lowest minted Lincoln Wheat Cents and this MS66+RD represents one of the best quality versions of this coin that still exists uncirculated.
It sold at Legend Rare Coin Auctions on 17th May 2018 for $158625.
With a grade of MS66+RD, it is the finest known 1914 D to exist.
#22) 1944 Lincoln Wheat Cent (Steel)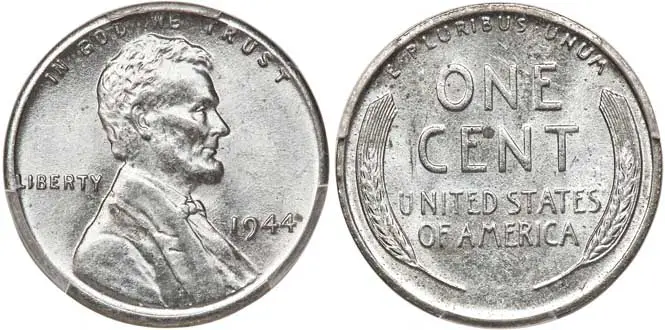 Mintage: 30
Value: $158,625 (MS64)
#21) 1943 Lincoln Wheat Penny (Obverse Die Break)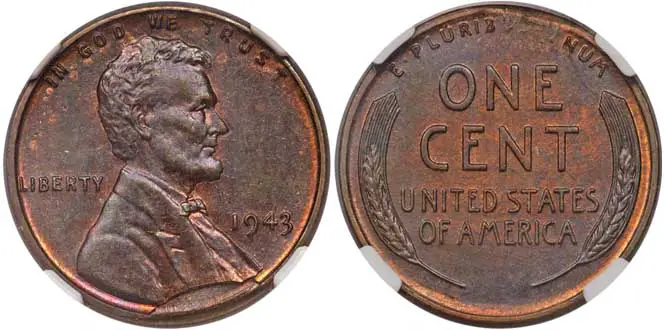 Mintage: 20
Value: $180,000 (MS61BN)
#20) 1944 Lincoln Wheat Cent (Steel)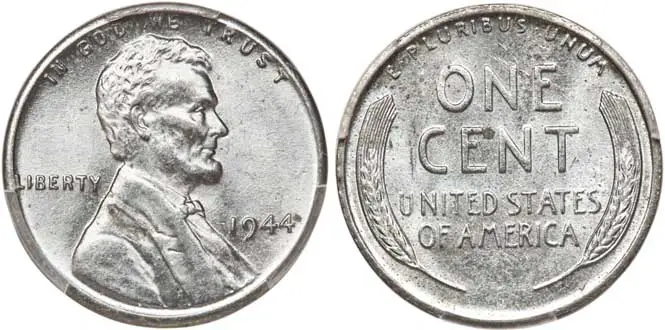 Mintage: 30
Value: $180,000 (MS64)
#19) 1943 Lincoln Wheat Penny (Bronze)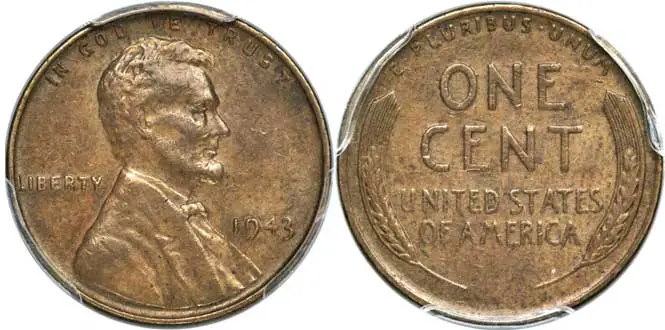 Mintage: 20
Value: $186,000 (XF45)
#18) 1943 Lincoln Wheat Cent (Bronze)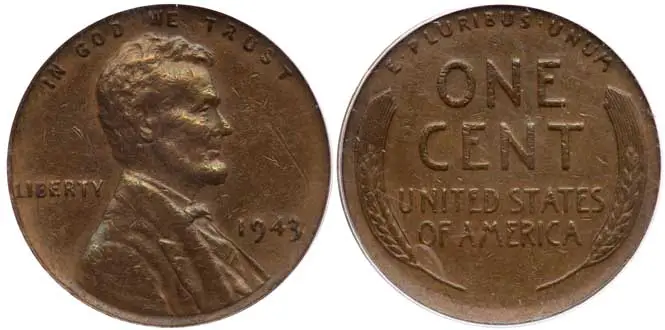 Mintage: 20
Value: $193,875 (EF45 CAC)
#17) 1943 Lincoln Wheat Penny (Bronze)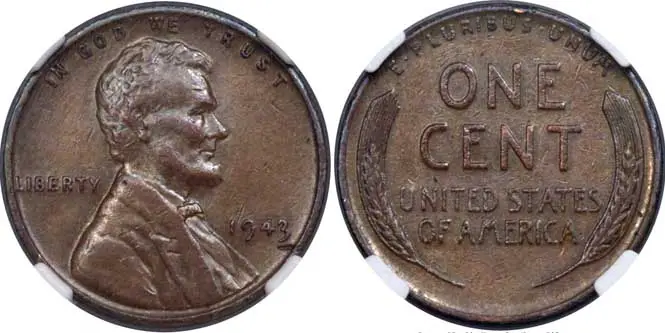 Mintage: 20
Value: $204,000 (AU53BN)
#16) 1943 S Lincoln Wheat Cent (Bronze)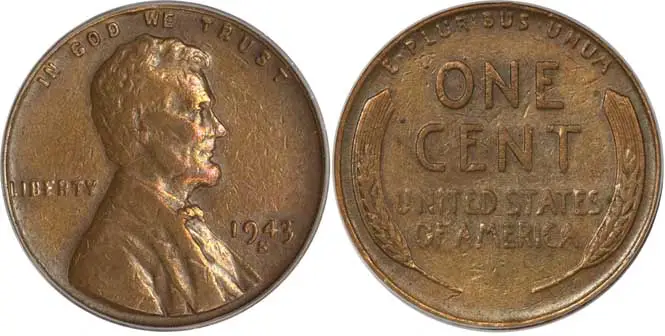 Mintage: 5
Value: $207,000 (VF35)
#15) 1943 S Lincoln Penny (Bronze)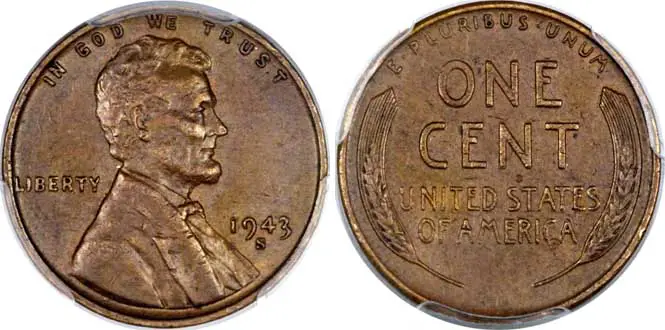 Mintage: 5
Value: $211,500 (AU55)
#14) 1943 Lincoln Wheat Cent (Bronze)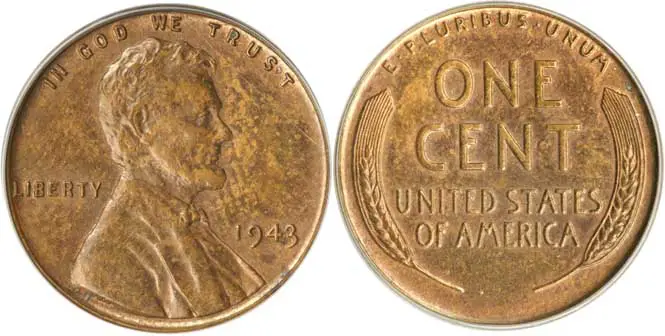 Mintage: 20
Value: $218,500 (AU58)
#13) 1943 S Lincoln Penny (Bronze)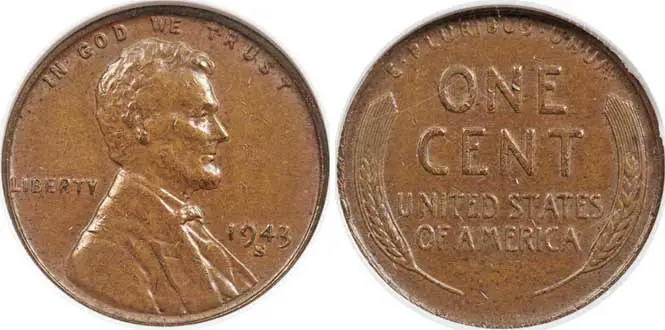 Mintage: 5
Value: $228,000 (AU53BN)
#12) 1943 Lincoln Wheat Cent (Bronze)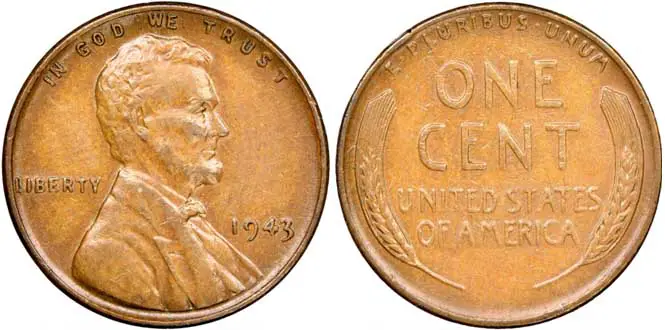 Mintage: 20
Value: $240,000 (AU55)
#11) 1909 VDB Proof Lincoln Penny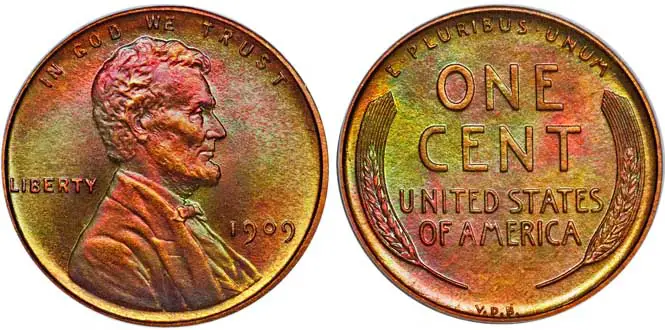 Mintage: 1194
Value: $258,500 (PR67+RB CAC)
#10) 1943 S Lincoln Wheat Cent (Bronze)
Mintage: 5
Value: $282,000 (AU58BN)
#9) 1943 Lincoln Wheat Cent (Bronze)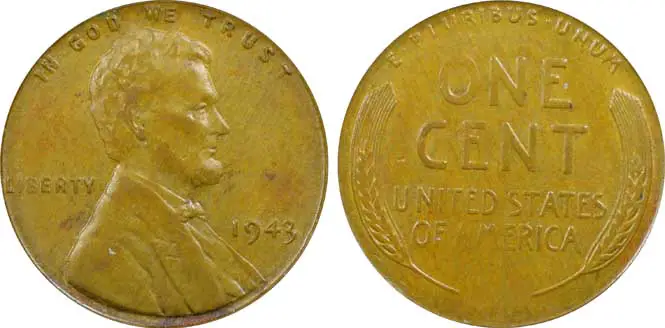 Mintage: 20
Value: $305,500 (AU58)
#8) 1943 Lincoln Penny (Bronze)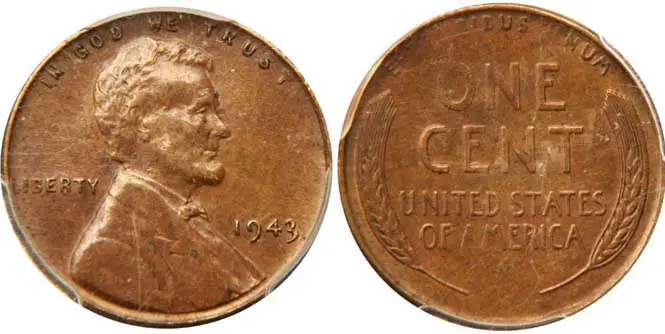 Mintage: 20
Value: $329,000 (AU55)
#7) 1958 Lincoln Wheat Cent (Doubled Die Obverse)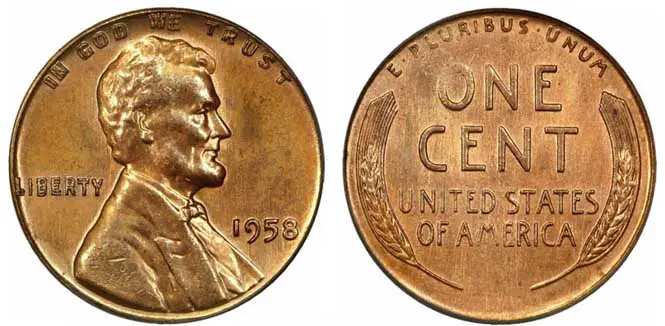 Mintage: 3
Value: $336,000 (MS64RD)
This incredibly scarce 1958 Lincoln Cent, designated as FS-101 with a Doubled Die Obverse, gleams at MS64RD on the PCGS scale.
There are only three known to exist and this one went for $336,000 March 2018 at Stack's Bowers.
There is one MS65RD which is part of the Stewart Blay Collection and two MS64RD's of which this is one.
Amidst the realm of 20th-century U.S. coinage, spanning all genres, this Doubled Die exhibits a wide and conspicuous spread of doubling on the letters that spell "LIBERTY" and the famous motto "IN GOD WE TRUST."
The date digits, particularly the 8, also bear subtle traces of doubling. The expansiveness of the lettering's doubling rivals that of the renowned 1955 and 1972 Doubled Die Obverse cents, yet the exceptional rarity of the 1958 Doubled Die Obverse ensures it remains a lesser-known marvel compared to those more abundant varieties.
With a satiny finish that radiates with light rose luster, the only imperfection seems to be a touch of haziness on the obverse, which prevents it from earning a perfect Gem rating.
A full strike graces every aspect, coming ever so slightly short at the base of Lincoln's profile and the upper left region of the letter "O" in "ONE" on the reverse.
#6) 1943 Lincoln Penny (Bronze)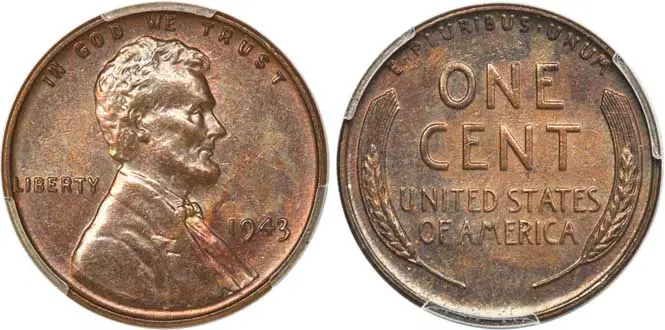 Mintage: 20
Value: $348,000 (MS62BN)
The current coin shares its second-place standing in the Condition Census with just one other PCGS-certified specimen.
It was snapped up for $348,000 at HA.com by its current owner in April 2021.
Its design features boast remarkable sharpness in most regions, with only a subtle hint of the occasional softness observed on Lincoln's beard.
The lustrous walnut-brown surfaces exhibit subtle undertones of olive, and any indications of handling are minimal.
Notably, a solitary tick positioned just above the 4 in the date may serve as a distinctive pedigree marker.
#5) 1943 Lincoln Wheat Cent (Bronze)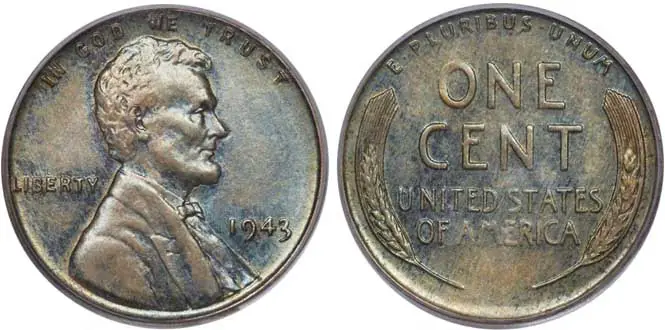 Mintage: 20
Value: $372,000 (MS62BN)
This 1943 cent struck on a bronze planchet and graded MS62 Brown CAC by PCGS is the joint second finest known of around 20.
The tale of Marvin Wallace Beyer Jr's remarkable discovery of this coin dates back to around 1957, when he was a mere 14-year-old.
Born on September 3, 1940, the timeline seems to indicate that he was around 17 at the time he stumbled upon this extraordinary coin.
Following this initial discovery, an intriguing series of events unfolded.
Beyer's father, also named Marvin W. Beyer, invested a substantial sum, reportedly around $700, in metallurgical testing of the coin.
Ultimately, the coin found its way to the hands of Abe Kosoff, designated for the 1958 ANA sale. However, a twist of fate led to its withdrawal from the auction, resulting in a lawsuit detailed in the April 1959 issue of The Numismatist.
The 1943 copper cent then vanished from public view, re-emerging only in the October 2000 Superior Pre-Long Beach sale, and later, in the Goldberg Coins' Benson Collection sale of February 2003, marking its last public auction appearance.
That was until February 2021 went it was brought for $372,000 at HA.com.
This remarkable cent boasts vibrant blue toning adorning lustrous olive-brown surfaces.
While Lincoln's beard displays slight weakness, the wheat ears remain sharply defined, and the overall surface quality impresses.
#4) 1944 S Lincoln Wheat Cent (Steel)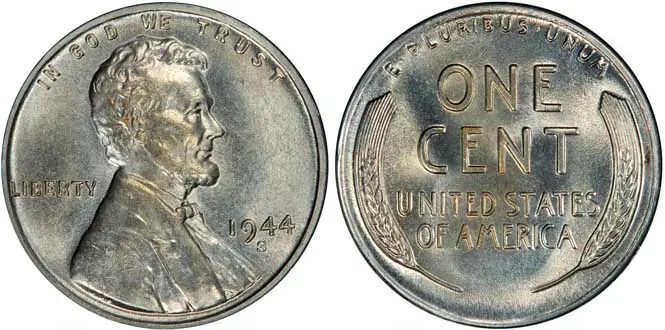 Mintage: 2
Value: $408,000 (MS66)
This 1944 S Steel Lincoln Wheat Cent is the only remaining Mint State example of a 1944 'Steelie' from the San Francisco mint.
It sold for a record auction price of $408,000 on August 18th, 2021 topping its previous record auction record price of $373,750 and is now the only steel wheat penny worth more than $400,000.
Gaining a PCGS grade of MS66, it's the highest graded 1944 Steel wheat penny from any of the three mints.
There is only one other 1944 S silver colored penny in existence, but it isn't in very good condition.
It's graded XF by PCGS and has been cleaned lowering it's value, although it still sold for $49,200 in August 2018.
#3) 1943 S Lincoln Wheat Cent (Bronze)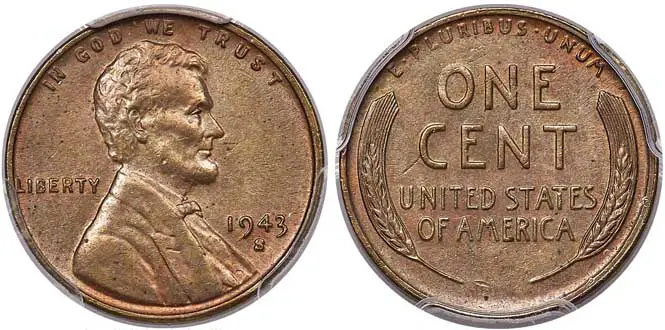 Mintage: 6
Value: $504,000 (MS63BN)
This treasure, hidden amidst a bag of 1943-S cents within the vaults of the San Diego Bank of America, was initially uncovered by none other than Merl D. Burcham.
Subsequently, it fell into the hands of Frank Spadone, the author of a paperback masterpiece on mint errors.
This extraordinary coin, the finest of only six known examples, exchanged hands among several collectors and dealers over the years.
It made appearances at auction on two other occasions before eventually finding its way into the collection of Bob Simpson in a private transaction in 2012, securing its place in numismatic history with a staggering purchase price of $1 million.
It last sold at HA.com in November 2020 for $504,000.
This remarkable MS63 specimen showcases the precise detailing that collectors anticipate from this issue, highlighting fine intricacies in Lincoln's hair and the wheat stalks.
A minute speck of zinc, stemming from one of the millions of "steel" cents minted in 1943, is delicately imprinted just above and to the right of the 3 in the date on the obverse.
The surfaces, while bearing minor markings, display a harmonious blend of light brown and crimson patina, with vestiges of original red concealed within sheltered regions.
A closer examination under a magnifying glass unveils minuscule carbon specks on both sides. The CAC Sticker unequivocally attests to the quality and visual appeal of this exceptional specimen.
#2) 1943 Lincoln Wheat Cent (Bronze)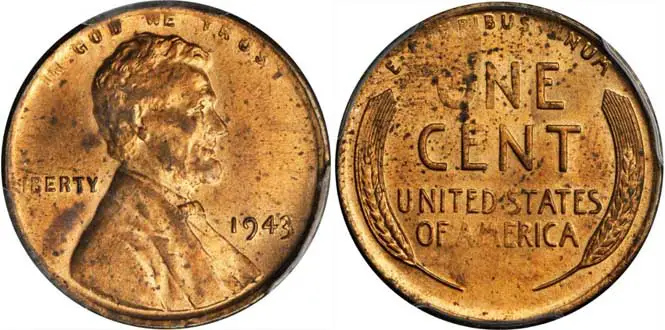 Courtesy of Stack's Bowers Galleries
Mintage: 20
Value: $1,000,000+ (MS63RD)
This is the highest graded 1943 Lincoln Wheat cent from the Philadelphia mint. As with all wheat pennies minted there, it doesn't have a mint mark.
There are only around 20 of these error pennies that exist and this Mint State 63 Red graded by PCGS is the best of the bunch.
It is part of The Dazzling Red Collection of Lincoln Wheat Cents.
An anonymous collector paid over $1 million for the coin in 2018 and it was purchased on their behalf by Bob Paul Rare Coins from Philadelphia.
Rumour has it that it was bought by Bob Simpson who owned the 1943 D as well at the time which he paid $1,700,000 for.
At one stage he is reported to have owned a 1943 Wheat Penny from all three mints of Philadelphia, San Francisco and Denver.
As one of the most valuable uncirculated coins ever, it also sold back in January 2013 at an auction at Stack Bowers for $164,500.
#1) 1943 D Lincoln Wheat Cent (Bronze)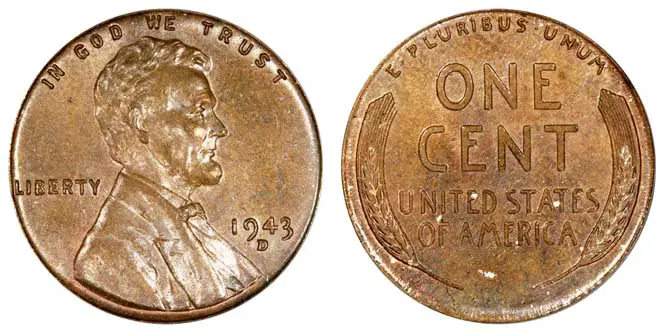 The 1943 D bronze Lincoln wheat cent with a PCGS grading of MS64BN is probably the most famous and valuable error penny ever minted.
It's a 'one-of-a-kind' wrong planchet error and holds the record for the most expensive wheat cent and rarest penny ever sold.
In September 2010 it changed hands privately for $1,700,000, which is a record breaking amount for the sale of a Lincoln wheat cent.
How did this coin come about?
There are various conspiracy theories and different versions of the story that exist, but I like this one the most.
Rumour has it that the coin was deliberately struck by the chief engraver of the US Mint in 1943, John R Sinnock. He gave it as a Christmas present to his girlfriend at the time who lived in North Tonawanda, New York.
Usually these types of wrong planchet error coins were produced when left over copper planchets from the previous year (1942) were still in the hopper when the zinc planchets (1943) were added.
When the striking started, the handful of copper blanks were struck first and sent out with the first batch of 1943 zinc wheat pennies. This is what happened in the other mints of Philadelphia and San Francisco.
However, the 1943 bronze wheat cent from Denver had zinc fragments on the coin's reverse as well as the obverse. This could only mean that the dies had struck zinc-coated 1943 steel wheat cents first, which isn't how these error coins were usually produced.
The bronze planchet appears to have been deliberately fed into the hopper full of zinc planchets to create this unique coin.
It also appears that the coin was struck twice to enhance its quality as it has the strongest strike of any of the 1943 copper colored cents from across all three mints.
The story goes on to reveal that the coin was kept secret by the girlfriend for years and upon her passing, was left to one of her children.
Discovering how much the copper based 1943 D is worth...
They had the wheat cent examined in 1979 by the American Numismatic Association Certification Service who declared it as genuine.
Later in 1996 it was put up for auction at Superior Galleries. Both the Numismatic Guaranty Company (NGC) and the Professional Coin Grading Service (PCGS) graded it Mint State 64 Brown (MS64BN).
It first sold in May 1996 at auction for $82,500. A few later years later in February 2003, it sold again for $212,750.
On September 2010 it broke all records when it was sold privately for $1.7 million.
Andy Skrabalak from the company Angel Dee's Coins and Collectibles sold it on behalf of its anonymous owner to Laura Sperber from Legend Numismatics.
She was acting as agent for Bob Simpson. The proceeds of the sale were given to charity.
It went on to sell again through Heritage Auctions on January 20th, 2021, for $840,000.
Would You Like To Receive More Exciting News And Information About Coin Collecting Direct To Your Inbox?
Subscribe To My Free Newsletter Below!