Valuable Indian Head Pennies
Top 10 Most Valuable Indian Head Pennies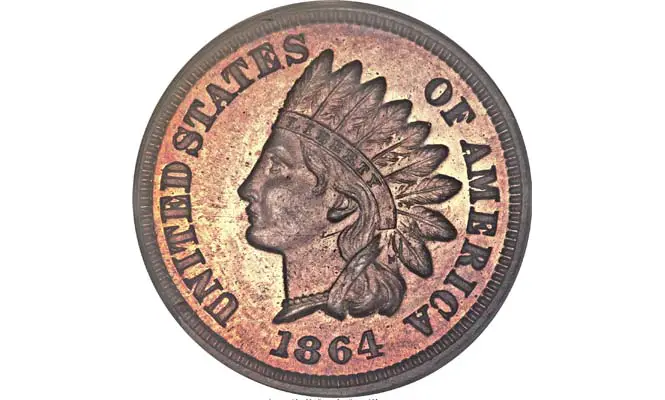 Did you know that the top 10 most valuable and rare Indian Head pennies all add up to a value of around $1,500,000?
These US one cent pieces from the dates 1859-1909 are known as Indian Head pennies and succeeded the earlier Flying Eagle penny. They all sold at auction to coin collectors for record prices.
These coins were designed by the engraver James Barton Longacre and they all weigh approximately 3.11 grams and are 19mm in diameter.
All of the rare Indian Head cents were minted in Philadelphia and have no mint mark. None of the copper coins minted in San Francisco made it into the top 10.
The bronze colored coins are made from a metal composition of 95% Copper and 5% Tin & Zinc.
Indian Head Penny Values At A Glance
As large cent coins were being phased out by the Flying Eagle Cent and now the Indian Cent, the copper coins produced by the United States mint were much smaller and lighter in color than the previous large cents.
The obverse appears to show an Native American, however it is actually the image of Lady Liberty wearing an Indian headdress.
Some people initially thought the mystery woman was James Longacre's daughter wearing an Native American headdress.
On the reverse is an oak wreath with a small shield above. The original design chosen by the US Mint Director at the time, James Ross Snowden, was a laurel wreath. It was never produced.
#10) 1899 Indian Head Penny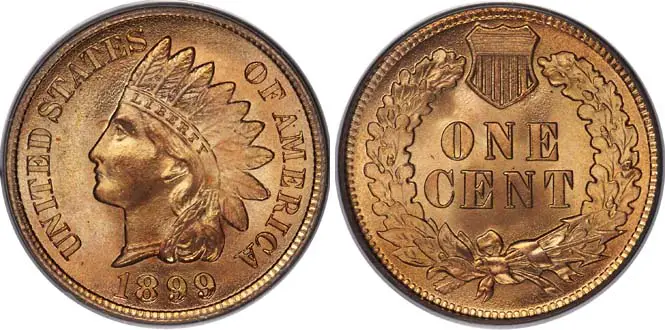 Mintage: 53,598,000
Value: $108,000 (MS68RD)
#9) 1872 Indian Head Penny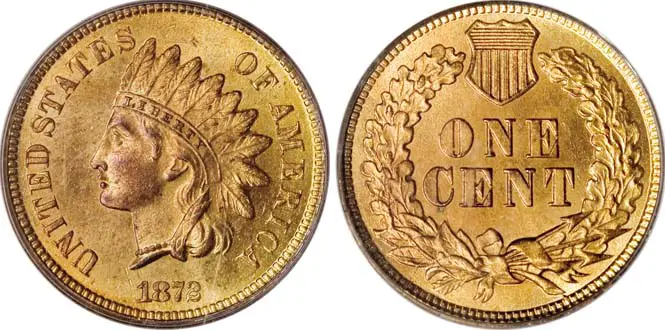 Minted: 4,042,000
Value: $126,500 (MS66RD)
#8) 1864 L on Ribbon Indian Head Penny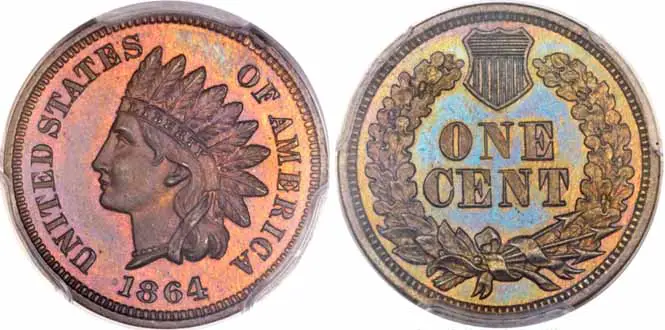 Mintage: 20
Value: $129,250 (PR66BN)
#7) 1864 L on Ribbon Indian Head Penny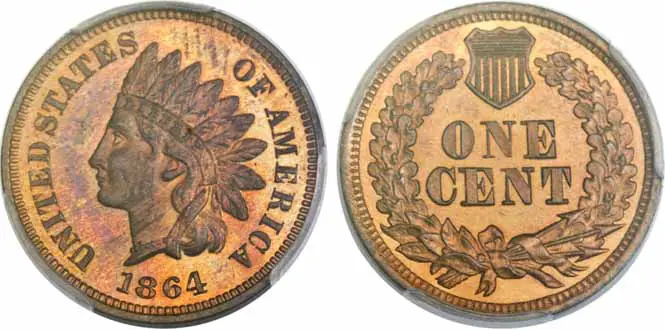 Minted: 20
Value: $135,125 (PR65RB)
#6) 1864 L on Ribbon Indian Head Penny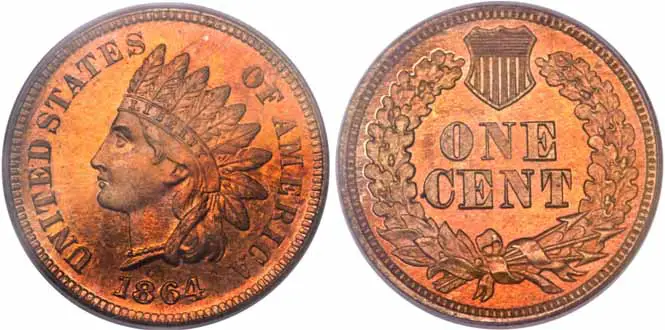 Mintage: 20
Value: $138,000 (PR64RD)
This is a very unique Indian Head cent. It is surprising that it isn't worth more due to its originality.
There is only one of these coins known to exist with the die pairing that was used to strike it.
Die pairing 3 or Snow-PR3, after the numismatist who discovered it, has been used to create this unique Indian Head cent.
It went for $138,000 on 6th june, 2002, however years later on 27th September 2013, it was resold for $123,375.
If you look at it under a microscope, you will notice that the number 4 in the date has been repunched. The second punching sits just slightly Southeast of the underlying first punch.
You can see that the number 8 and number 6 have been similarly repunched also.
On the obverse you can also see a small dark spot on the left hand side of the letter C of CENT.
#5) 1864 L on Ribbon Indian Head Penny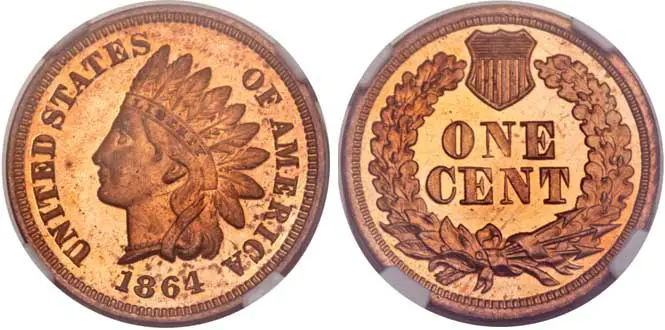 Minted: 20
Value: $141,000 (PR65RD CAM)
This rarity last changed hands on 7th August 2014 for $141,000.
It's another high value coin from the Norweb collection and the finest of the only two Cameos certified.
This is also a Snow-PR2 variety which contains the obverse die line on Liberty's neck just under her ear.
There are only thought to be 10 examples of the Snow-PR2 that are known.
#4) 1877 Indian Head Penny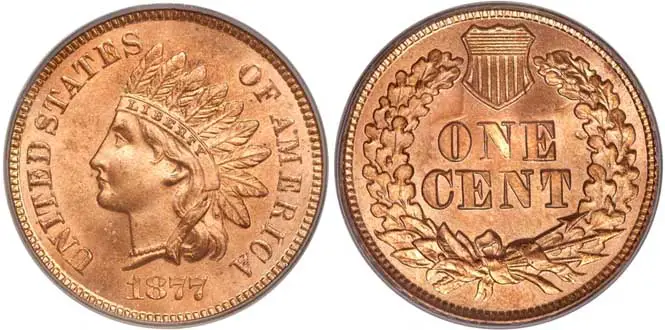 Mintage: 852,500
Value: $149,500 (MS66RD)
You may notice a shallow N in the word ONE. This was due to the die that was used. All 1877 cents that weren't proof's were struck from the same die.
Some experts including Richard Snow think that only around 200,000 were created as opposed to 852,500 due to the lifespan of a single die.
#3) 1877 Indian Head Penny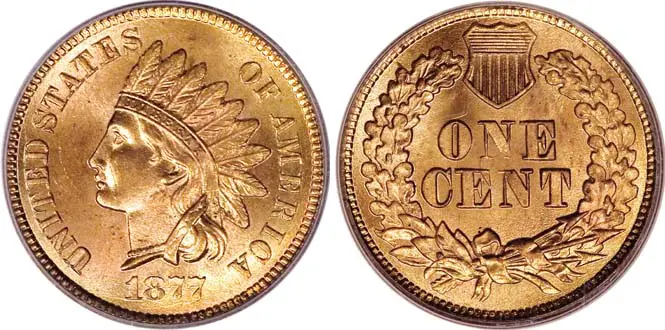 Minted: 852,500
Value: $149,500 (MS66RD)
The first of two very high quality Mint State 66 Red pennies. This one sold for $149,500 on 9th August, 2007.
1877 was one of the lowest production years in the US Mint's history up until that point, making it one of the key dates, with only 852,500 pieces being produced.
Some numismatic experts think it was much lower due to the lifespan of the reverse die. They don't think it could have produced this many without degradation of quality.
Out of this 852,500, experts reckon that less than 1% have survived in uncirculated condition making any Mint State examples worth a lot of money to collectors.
#2) 1864 L on Ribbon Indian Head Penny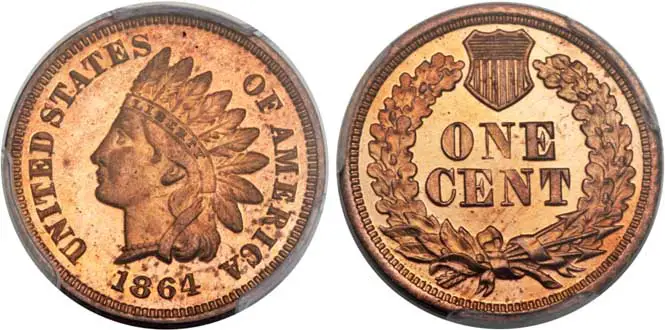 Mintage: 20
Value: $152,750 (PR65RD CAM)
One of the two highest quality PR65 Red Cameo examples of these rare coins. This one, also a Snow-PR2, was sold 26th April, 2016 for $152,750.
It is part of the Emery May Norweb collection and was estimated to have been struck at the Philadelphia mint around 1871 along with at least 10 others.
#1) 1864 L on Ribbon Indian Head Penny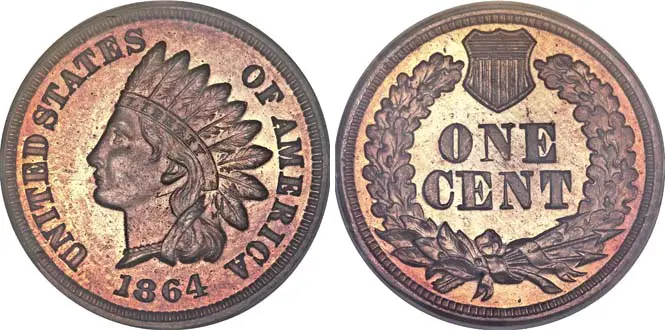 Minted: 20
Value: $161,000 (PR65RB)
This 1864 L on the Ribbon proof is the most valuable Indian Head penny ever sold at auction. There are only around 20 of these coins known to exist.
This Snow-PR2 variety sold at Heritage Auctions on 13th October 2011 for a record breaking $161,000.
In fact, most of the top 10 most expensive Indian cents ever sold are 1864 L on the Ribbon proof strikes because they are so rare.
This one is graded PR65RB by PCGS with certificate number 4332392 and it's also CAC certified as well.
1864 was the first year that these cents were made from bronze and the designer James Longacre added his initial 'L' to the ribbon behind the neck of the Native American's Head.
Rick Snow is a series expert for these coins and he has identified three different varieties of the 1864 L on the Ribbon proof.
He has named them Snow-PR1 of which seven are known, Snow-PR2 of which 10 are known and Snow-PR3 of which only one example is known.
If you look at the die line just below the Native American's jawline, you can tell that this specimen is a Snow-PR2. All PR2 varieties feature this line.
Another distinctive feature of a PR2 is the die lines on the reverse near the olive leaves on the far left. They are quite hard to make out on this example.
Would You Like To Receive More Exciting News And Information About Coin Collecting Direct To Your Inbox?
Subscribe To My Free Newsletter Below!