Is Your 1907 Indian Head Penny Valuable?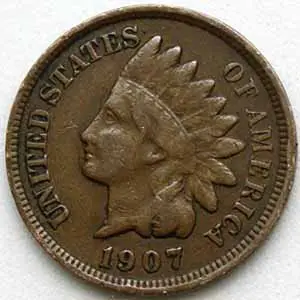 The 1907 Indian Head Penny is quite a popular coin and one of the easiest for collectors to find.

Especially if you're into metal detecting.
Over 108 million were minted in 1907 making them the most widely available Indian Head cents available.
Although this penny isn't very rare, it's still quite valuable.

A Good G-4 condition coin is worth about $2.11 and a Proof PR-63 will net you around $148.

A record auction price of $63,000.00 was achieved for a MS67+RD.
Where is the mint mark on a 1907 Indian head penny?
The 1907 penny was minted in Philadelphia so you might have noticed that it has no mint mark. There were approximately 108,137,143 produced that year and they have a melt value of $0.0188.
This bronze composite cent was designed by the engraver James B Longacre and is made of 95% copper and 5% Tin & Zinc.
He was the chief engraver at the United States Mint from 1844 to 1869.

His daughter actually modelled the ceremonial headdress which was added to the Liberty bust on the obverse of the coin.
The 1907 Indian Head Cent weighs 3.11 grams and is 19 mm in diameter which is the same as most US cents throughout the 1900's.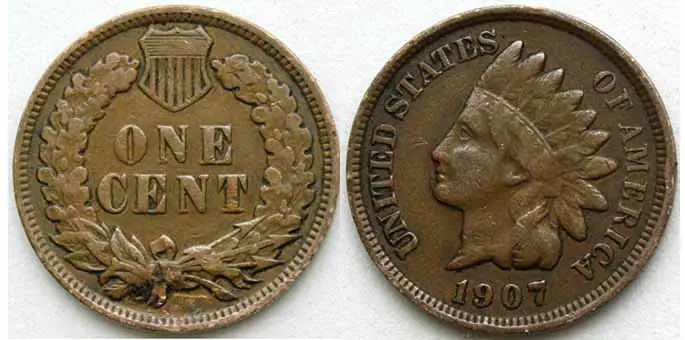 On the obverse side it reads, UNITED STATES OF AMERICA 1907 around the edge and in the middle there is a profile of Miss Liberty looking to the left and she's wearing a native American headdress.

Across the band of the headdress it reads, LIBERTY.
On the reverse side is a wreath with a small shield at the top.

This is the type 3 series design, which is similar to the type 2 series , and the Indian Head penny has been like this since 1860.
How Rare Is The 1907 Indian Head Penny?
What is your Indian head penny value? As the most Indian Head pennies were minted in 1907, this United States cent isn't very rare at all.

This means that only the uncirculated coins in mint condition are of any real value.
There were 1,475 proof coins minted in 1907 for collectors, so if you're lucky enough to have a proof from this year in your collection, you may be able to get a good price for it at auction from another collector.
What is a 1907 Indian head penny worth?
Now for the information that everyone who owns a 1907 one cent coin wants to know. How valuable is it?
The Indian Head pennies with the most value are the uncirculated ones in mint state condition. There are quite a few pennies with re-punched date errors which are also well valued.
If you find a coin with any errors caused by the minting process, they are generally worth money to a private collector.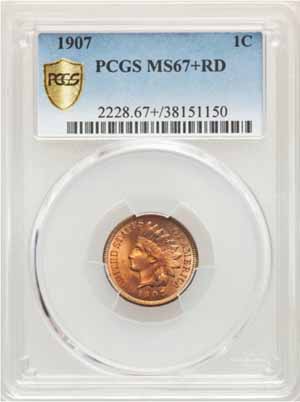 A penny with a condition of AU58 (About Uncirculate 58) is worth about $65.
A MS63RB (Mint State 63 Red Brown) with a re-punched date has a value of $40, while a slightly higher graded re-punched date Indian head MS64BR has a value of $380.
Red coins have higher values than brown ones. The more red in color, the more it sells for.
A PR66RB proof coin sold at auction for around $4000, while a MS67RD sold for $24000.
The auction record price for a 1907 Indian Head Penny is set at $63000 and this was bid for a MS67+RD (Mint State 67+ Red) in 2019. This is a good example of a well preserved coin in nearly perfect condition.
Click here to discover more valuable United States cents you might have in your coin collection.
Would You Like To Receive More Exciting News And Information About Coin Collecting Direct To Your Inbox?
Subscribe To My Free Newsletter Below!