Garrett AT Max Vs Gold Vs Pro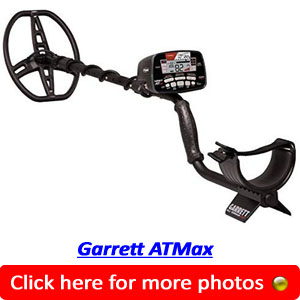 The Garrett AT series of metal detectors are pretty high spec and widely used by detectorists all over the world.

In a hurry...?

The best all terrain VLF metal detector from Garrett is the ATMax.

(Except if you are only interested in searching for Gold, then choose the ATGold).

They're so popular because each model is equipped with differing features which allow it to be more specialized in the specific type of hunting you're doing.

Some of these specializations include searching for gold, salt water use or the ability to use wireless accessories such as headphones, however all models offer exceptional performance and depth detection in all terrains.

What features and specifications do you need in a metal detector to find the type of hidden treasure you're searching for? Have you read our metal detecting for beginners guide?
AT Max Vs Gold Vs Pro At A Glance
The table below shows all the specifications for each of the Garrett All-Terrain metal detectors at a glance.

You can quickly see how the ATMax, ATGold & ATPro compare against each other.

Hopefully this should make it easier for you to decide which Garrett AT model is the best for you?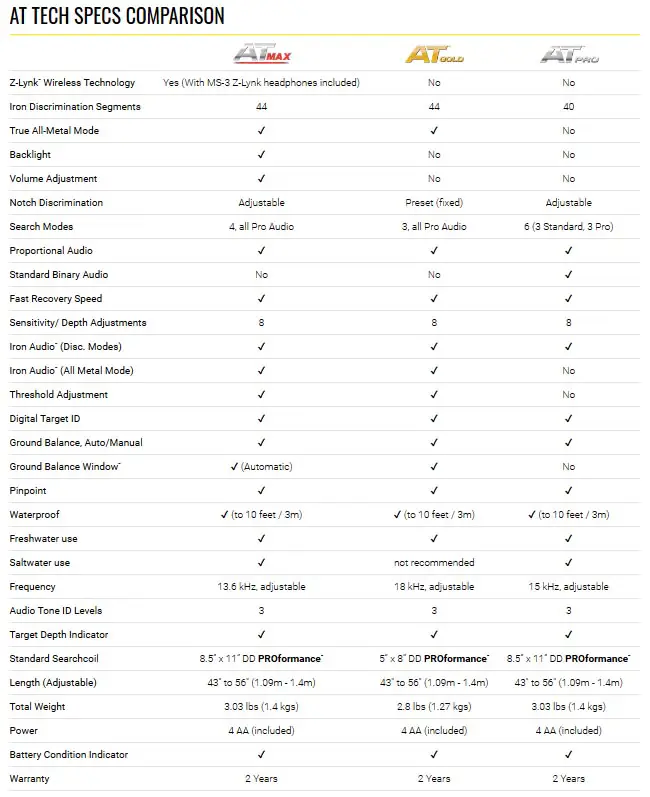 Image Source
What Do The ATMax, ATPro & ATGold Have In Common?
Proportional Audio: Helps you to better determine the depth, shape and size of the target.


Fast Recovery Speed: When you are targeting multiple objects, this feature allows you to pick out the valuable objects from the junk.


Iron Audio: Once setup properly, this feature will allow you to discriminate the good metals from the bad. For example you could calibrate the 'Discrim' setting to around 35 which would allow you to differentiate between a bottle cap and a silver coin. See video below.
Digital Target ID: This is a numeric scale between 0-99 which allows you to identify the target metal's conductivity.


Fast Track Ground Balance - Automatic/Manual: Allows you to have full control over the ground balance of the device when using over mineralized soil. Most beginners will just use the fast track auto balance. More advanced users may want more control over the settings to cancel out false signals.


Target Depth Indicator: All AT models feature a target depth indicator and 8 sensitivity adjustments.


Electronic Pinpointing: A feature used to accurately locate your target object.


Waterproof: One of the main features of the All-Terrain series is that all three models are waterproof to approximately 10ft or 3m and are all suitable for fresh water use.


Audio Tone ID: All models feature 3 audio tones.


Battery Power Indicator: Quickly see how much battery power you have left. Device requires 4xAA batteries which should be included. I recommend getting two sets of hi-powered rechargeable batteries which will save you money going forward.


Warranty: 2 years.
Garrett ATMax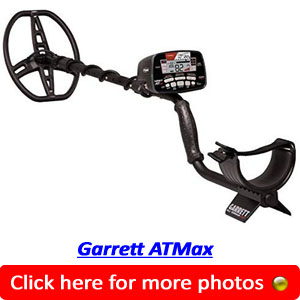 The ATMax is the top of the range All-Terrain series VLF metal detector from Garrett.

It retails for around $850 and features the latest Z-Lynk Wireless Technology for connecting compatible accessories.

The ATMax features a 8.5" x 11" DD PROformance search coil, weighs 3.03 lbs (1.4 kgs) and is extendable in length from 43" to 56" (1.09m - 1.4m).

The extra features which make the ATMax different from the other AT models include:
MS-3 Z-Lynk headphones: These Z-Lynk compatible headphones are included with the ATMax.


Backlight: You can hunt both during the day and at night with the backlit display feature. Perfect for using your ATMax in low-light conditions.


Z-Lynk Wireless Technology: Providing near-zero delay between your ATMax and your MS-3 wireless headphones. Z-Lynk is 6 times faster than Bluetooth at around 17 milliseconds.


13.6 kHz Operating Frequency: This operating frequency gives you good all-round detecting ability for finding old brass war relics, coins & other types of jewellery. 13.6 kHz is going to give you deeper detection than other models such as the ATPro & ATGold, but with less target separation.

Garrett ATPro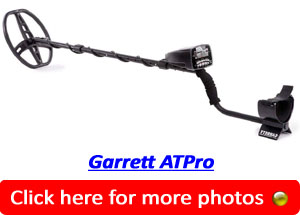 The ATPro is one of the most popular All-Terrain VLF detectors from Garrett.

It has been around for a few years and is still going strong due to its great value for money.

It retails for around $650 and has many useful features including adjustable notch discrimination, proportional and standard binary audio, digital target ID, is waterproof to 3m and can be used in salt water.

The ATPro also features a 8.5" x 11" DD PROformance search coil similar to the ATMax, weighs 3.03 lbs (1.4 kgs) and is extendable in length from 43" to 56" (1.09m - 1.4m).

It operates at a frequency of 15kHz which is good for finding objects such as coins, jewellery and other relics.

Garrett ATGold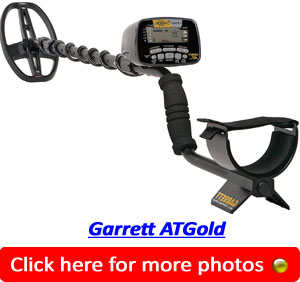 The ATGold is a specialized VLF metal detector which has been designed for finding Gold.

It retails for around $750 and is equipped with the best features for finding Gold nuggets in any environment or terrain.

The ATGold has been designed to be tough enough for hunting in dirty, dusty environments and also underwater. Although it's not recommended for use in salt water.

It features a 5" x 8" DD PROformance search coil which is better for detecting Gold, weighs 2.8 lbs (1.27 kgs) and is extendable in length from 43" to 56" (1.09m - 1.4m).

It operates at a frequency of 18kHz which is good for finding Gold nuggets.

Watch this short 18 minute video to see the ATGold in action finding Gold specimens in the field.



Would You Like To Receive More Exciting News And Information About Coin Collecting Direct To Your Inbox?
Subscribe To My Free Newsletter Below!