What's The Best Metal Detector For Gold?
Published: 6th May 2020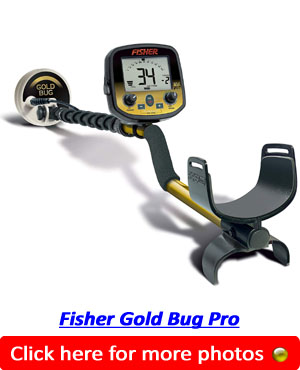 Are you interested in finding the top rated metal detector for gold prospecting but aren't sure where to start?

With so many different models to choose from, it can become easy to get overwhelmed.

Especially when you consider the variety of specifications, features and pricing.

In a hurry?

After extensive research of over 20 of the top-rated metal detectors for finding gold, we have concluded that the best all-round, most versatile, metal detector for gold prospecting is the Fisher Gold Bug Pro.

We chose the Gold Bug Pro because it's ultra-lightweight (approx 2.5 lbs), works well in highly mineralized soils and will easily find small gold nuggets buried under the surface.

It's also competitively priced at around $699 MSRP which offers great value for money considering it's a specialist gold metal detector.

With such a great reputation they rarely sell at a discount, so if you can find a brand new one for less than $600, grab it. You've got yourself a bargain!
Choosing The Best Metal Detector For Gold Prospecting
Choosing the right model can be a bit challenging, but I'm here to help you make the best buying decision with my top picks.

I've split my list of the top rated gold metal detectors into three categories to suit everyone's individual needs.

The best gold detectors for beginners are aimed at people who are new to prospecting and want a machine to enable them to get started in this area of the hobby.

I've picked the machines which offer a good balance between price and features.

The more intermediate machines are good for people who are doing some gold prospecting and want to get a little bit more specialized in how they hunt for gold nuggets.

The absolute top rated metal detectors for gold are for enthusiasts who know what they're doing when it comes to hunting for gold and they only want to work with proven top of the range tools.
Beginner - Entry Level Gold Metal Detectors
Gold Bug Pro: Top rated for value and features MSRP $699.00
Garrett AT Gold: Versatile and Waterproof. MSRP $749.95
Gold Bug: Great Value. MSRP $549.99
Intermediate - Specialized Gold Metal Detectors
Gold Bug 2: MSRP $899.99
Garrett ATX: MSRP $2,495
Minelab Gold Monster 1000: MSRP $1,100
Advanced Metal Detectors - Best Rated For Experts
Minelab GPZ 7000:
Minelab GPX 5000:
Minelab SDC 2300:
#1 - Fisher Gold Bug Pro
It's a budget-friendly option that will help you find smaller pieces of gold. The detector works on a 19 kHz operating frequency, which provides a reasonable depth and correctly handles hot surfaces and trash. Despite the low price, it comes with a 5'' round search coil, which pinpoints gold over all other metals, LCD screen, and a 2-tone audio identification.

It also offers excellent comfortability and ease of use. The model has a real-time ground balancing system, which indicates the exact minerals present in the soil to help you pick out that elusive nugget.
Pros
Quickly finds small nuggets.
It works efficiently in highly mineralized soils.
It guides you through to the right area for gold prospecting.
Cons
Only the coil is waterproof.
#2 - Garret AT gold
It is another starter level and waterproofed detector, which is suitable for both water and land applications. It's big enough to pick up signals correctly and provides excellent sensitivity to smaller gold pieces. Some additional features include a digital target ID, audio mode, and a manual ground balance. It's a brilliant idea if you need to get more information without having to look at the screens, but you need to learn what different sounds mean.
Pros
It can discriminate between various metals easily.
It features a top-notch ground balancing system.
Waterproof up to 10 ft.
Cons
It is unsuitable for saltwater conditions.
It's heavier.
#3 - Fisher gold bug
It's an ideal beginner gold detector since you don't require a vast investment to get one. The Gold Bug comes with a 5-inch search coil, but you can upgrade to a larger one if you need to spend less time in the fields and cover substantially large areas.
It's a great option if you are looking for an ideal metal detector for finding all kinds of other treasure as well including coins, silver and jewelry since you can easily change the the settings to suit your search. Its main distinctive feature is the no–motion pinpoint, which means that you don't need to move it around to detect a signal, you can just place it over the area to spot your target.
Pros
It has a no-motion pinpoint.
It comes with a large screen with a 0-99 numeral target discovery display.
It features all metal and discriminates search modes.
It has perfect ergonomics for pleasurable use.
Cons
Not waterproof.
It lacks the multi-tone audio capabilities.
If you need a highly sensitive gold nugget detector, but you can't afford the high-end models, the mid-range options are better alternatives.

These mid-range models work perfectly in challenging environments; they are highly durable, have lots of specialized features, and can handle high mineralization levels.
#1 - Fisher gold bug 2
It is a great detector that is more sensitive to nuggets on neutral ground and provides excellent value for your money. It comes with a high 71 kHz operating frequency, which offers excellent selectivity for gold located close to the surface. You won't get tired when handling it for more extended periods due to the relatively lightweight design. It's also easy to use, but you need to understand how to use the iron disc and dual knob ground control modes.
Pros
It's a slim and light detector.
It correctly detects nuggets at external surfaces.
Cons
It is less useful for more in-depth searches.
It lacks the digital display, and you need to use the audio identification entirely.
#2 - Garrett ATX
It's another fantastic metal detector with easy to operate controls and can upgrade as you improve your treasure finding skills. It comes with an 18 kHz operation frequency, which supports the detection of small pieces of gold, coins, jewelry, and relics. The ATX is perfect for challenging environments, including saltwater, and features highly sensitive pinpoint objects. You will enjoy constant audio responses to help you detect signals created by faint targets. It also has an outstanding ground balance, and you can still use it in shallow freshwater.
Pros
You can change and upgrade the coils.
It has easy to understand controls.
It has a collapsible design.
Cons
It lacks discrimination, thus not recommended for trashy sites.
#3 - Minelab gold Monster
It's an excellent gold detector with a 45 kHz frequency, fantastic ground balancing capabilities, and a top-notch discrimination mode. It can help you find smaller gold nuggets at greater depths and works perfectly in salty soils. It features automatic noise cancellation to help you concentrate on faint signals and has digital electronics so you will read the prompts efficiently. You can also adjust the sensitivity to your preferences to pinpoint the treasure location while discriminating false alerts from other objects.
Pros
It has easy adjustments and waterproof coils.
It is easy to use.
Cons
It lacks a screen backlight leading to poor visibility in darker areas.
If you are serious about gold prospecting, the high-end detectors are ideal for giving you fantastic performance and depth. However, they come at an additional price.
#1 - Minelab GPZ 7000
As you may expect from the overall top rated gold metal detector, the Minelab GPX 7000 is a relatively expensive machine that has outstanding features that are hard to find in other models. It comes with a zero voltage transmission technology that allows the model to provide high sensitivity and improved depth to detect deep nuggets and smaller flakes. It features both manual and automatic ground balancing features with varying adjustments for perfect detection in severe conditions.
Pros
It will likely detect gold missed by other metal detectors.
It provides various adjustments.
It facilitates straightforward navigation.
Cons
It is a bit expensive.
It's a complex machine.
#2 - Minelab GPX 5000
If you find the GPZ 7000 expensive, then this is a better alternative with advanced features, which will help you find large and small gold in a wide range of conditions. It's lighter and slightly more comfortable to use during long searches and has improved ground balance with better stability and quieter operations to increase comfort in the field. The detector has a salt/gold timing, which makes it perfect for beach adventures while the coin/ relic timing supports delicate ground surfaces.
Pros
It programs easily and has higher sensitivity.
It uses fewer batteries and is lightweight.
Has a remarkable ability to change coils.
Cons
The coil isn't waterproof.
#3 - Minelab SDC 2300
It's a high-performance gold detector that is best suited for searching for gold nuggets both on land and underwater. It comes with a compact design and folds nicely to fit in your backpack. The model is highly sensitive to gold scattered along with high mineralized areas, and you can quickly detect lots of gold patches.
It is designed to perform in harsh conditions to find those elusive gold bearing spots in remote places. It is also submersible to water up to 10 feet to allow an easy transition from land to water.
Pros
It has a compact design.
It has a waterproof capability.
It performs efficiently in the most challenging conditions.
Cons
It's a little bit too heavy.
Gold Metal Detector Buying Guide
While most models are ideal for gold detecting, you need to understand the key features to look for and the necessary accessories required for a perfect model based on your environment, goals, and budget. Here is an overview of vital elements.
Hunting Locations
Depending on your hunting environments, consider the size of the nugget, depth, mineralization, and amount of trash to determine the right model.
Budget
Most of the gold detectors are highly-priced, especially those with a pulse inductor. The high-frequency VLF gadgets are cheaper, thus suitable for a tight budget. If you have a bigger budget, then you can purchase a high-end model like the Minelab GPZ 7000. You need to prioritize the effectiveness of detector before spending too much, keeping in mind that price doesn't guarantee perfection.
Technology
The main types of detectors used in the gold search include the pulse induction (PI) or high frequency (VLF). The VLF detectors have a higher frequency and will aid in filtering out other junks in the soil. You will also get them at a relatively low cost compared to the pulse induction models. However, you may encounter false signals due to their high sensitization to minerals.

Pulse induction detectors, on the other hand, are better at filtering out mineralization and come at a higher price. It makes them a suitable choice due to less interference in areas with severe mineral conditions. However, they are inadequate when used to search for smaller nuggets, and when you need to eliminate junk items. You, therefore, need to consider your requirements to select an ideal model.
Gadget Features
Do a background check for the essential detector features before buying one. Look out for its ability to discriminate junk items to save on time. Consider the frequency strength since higher frequencies aids in getting smaller nuggets while lower ones find larger chunks. You should be ready to encounter challenging terrains; thus, look for a manually adjustable detector. Also, confirm if the gadget can handle high mineralization to avoid chatter.
Search Coils
A more extensive search coil on your machine gives you the ability to find gold in the deeper ground and hunt faster. However, it is less sensitive to small targets and is less useful in highly mineralized settings. A small loop is more susceptible to smaller targets and helps to separate various small objects in a location with a lot of trash.

On the other hand, a concentric coil is ideal for discriminating in areas with a lot of trash, while the broad scan types are better at ignoring the effects of mineralization.
Accessories Needed
You need extra items to be more effective in your gold search and spend less time. Ensure that you have gloves, coil covers, pinpointer, pick, headphones, a magnet, vials, and a scoop.
Conclusion
Although gold detecting is a fun activity, it requires excellent tools, and the trick is to understand whether your hunting area contains shallow, deep, small, or more giant nuggets to choose the right type. If you are new to gold prospecting, you can kick off with the beginner models and upgrade as you progress based on the above guidelines.
Return to our ultimate guide to metal detecting.
Would You Like To Receive More Exciting News And Information About Coin Collecting Direct To Your Inbox?
Subscribe To My Free Newsletter Below!