1915 20 Dollar Bill Value: What's A Federal Reserve Bank Note Worth?
The 1915 20 dollar Federal Reserve Bank Note is almost certainly going to worth more than face value in any condition due to how rare it is.
Federal Reserve Bank Notes are not the same as Federal Reserve Notes. They were a type of emergency currency issued under the Federal Reserve Act of December 23, 1913.
A 1915 $20 bill is worth $4500 for a Very Fine (20-35), $8500 for an Extra Fine (40-45), $9000 for an About Unc (50-58), $10,000 for a Crisp Unc (60-62), $11,000 for a Choice CU (63) and $15000 for a GEM CU (65).
Even a PMG graded Good 6 Fr. 827 sold on Jan 12th, 2015 for $587.50 due to how rare these FRBN's are.
1915 20 Dollar Bill Serial Number Specifications
Series: 1915
Denomination: $20 USD
Seal Varieties: (1) Blue
Signature Varieties: (1) Teehee - Burke
Bank Varieties: (4) Atlanta (F), Chicago (G), Kansas City (J), Dallas (K)
All 1915 $20 bills had four signatures. They all had the standard signature of the Register of the Treasury Houston B Teehee and the Treasurer of the United States John Burke.
Depending on the bank, they also had the signature of the Cashier/Secretary and Governor.
The issuing bank of Atlanta had three slightly different varieties as documented by Friedburg.
Fr-822 was signed by Bell as the Cashier and Wellborn as the Governor, Fr-822-1 had Bell labelled as Secretary and Fr-822a had Pike as Secretary/Cashier and McCord as Governor.
The issuing bank of Chicago Fr-824 had McLallen and McDougal, Kansas City Fr-826 had Anderson and Miller, Kansas City Fr-827 had Cross and Miller, Dallas Fr-828 had Hoopes and Van Zandt, Dallas Fr-829 had Gilbert and Van Zandt, and Dallas Fr-830 had Talley and Van Zandt.
What Does The Series of 1915 $20 Note Look Like?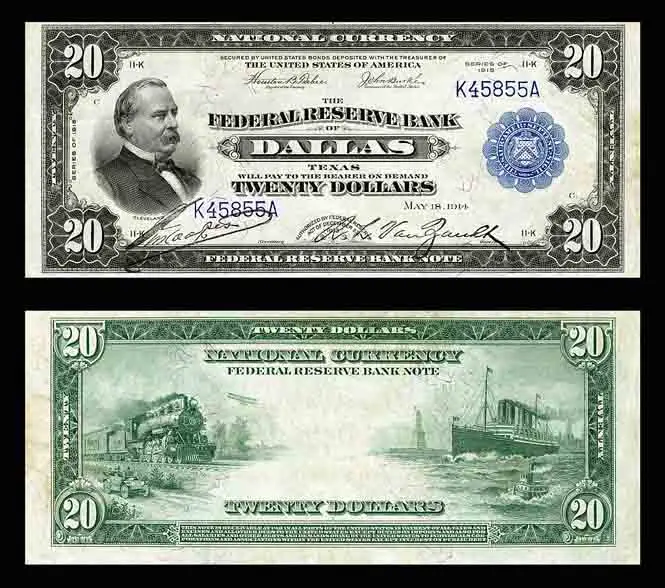 Image Courtesy of National Numismatic Collection at the Smithsonian Institution (Unedited CC)
The old paper money face has a portrait of Grover Cleveland on the left side and the blue seal to the right.
At the top center is written NATIONAL CURRENCY with the obligation which reads: SECURED BY UNITED STATES BONDS DEPOSITED WITH THE TREASURER OF THE UNITED STATES OF AMERICA.
In the center is the name of the issuing bank with the note value and the serial number to the top right and bottom left.
At the base of the note face is written: AUTHORIZED BY FEDERAL RESERVE ACT OF DECEMBER 23, 1913.
The back of the note is similar to the illustration on the large size 1914 $20 Bill. It has a steam train on the left and a steam ship on the right. You can also see an automobile, airplane and Statue of Liberty.
As with all early US $20 bills (pre 1928), they were known as large size and had dimensions of 7.50 by 3.125 inches.
You can discover more about paper currency at Lost Treasure HQ.
Would You Like To Receive More Exciting News And Information About Coin Collecting Direct To Your Inbox?
Subscribe To My Free Newsletter Below!