How Much Is The 1985 20 Dollar Bill Worth?
What's the value of a 1985 20 Dollar bill to a collector? How much do you think a 1985 series $20 note is worth?
The short answer is face value of twenty dollars unless you have a high quality uncirculated bill, special serial number, print error or star note.
These more desirable 1985 $20 bills might attract up to $300-$400 depending on whether a collector wants them to complete a collection or has a special interest in the one you're selling.

Image Courtesy of eBay
The 1985 series isn't very rare and as you can see from the numbers below, there were a lot of these twenty dollar bills printed between October 1985 and June 1990.
Apart from printing error notes, 1985 $20 star notes from San Francisco and Kansas City are the most rare as only 3,200,000 were printed for each of those Federal Reserve Banks.
All these bill's were printed at the Bureau of Engraving and Printing's Washington, D.C. headquarters which is now officially known as the Eastern Currency Facility.
Series: 1985
Denomination: $20 USD
Seal Varieties: (1) Green
Signature Varieties: (1) Katherine D. Ortega - James A. Baker
Regular Varieties: (12) Boston (A), New York (B), Philadelphia (C), Cleveland (D), Richmond (E), Atlanta (F), Chicago (G), St. Louis (H), Minneapolis (I), Kansas City (J), Dallas (K), San Francisco (L)
Star Note Varieties: (9) Boston (A), New York (B), Philadelphia (C), Cleveland (D), Richmond (E), Chicago (G), Kansas City (J), Dallas (K), San Francisco (L)
Regular Notes Printed: 6,832,000,000
Regular Star Notes Printed: 36,480,000

Image Courtesy of eBay
What Does A 1985 20 Dollar Bill Look Like?
Since 1929 all $20 federal reserve notes were reduced in size to 6.14 x 2.61 inches. On the front of the bill is a portrait of President Jackson and on the rear is a vignette of the White House.
The paper is made from a mixture of cotton and linen and contains small amounts of blue and red security fibers.
To the left of the portrait is a black seal which includes a letter which refers to the name of the distributing Federal Reserve Bank.
On the right of the portrait is a green seal representing the U.S. Department of the Treasury.
You'll also notice the unique serial number for each banknote printed twice on the front. Once on each side of the portrait.
1985 20 Dollar Bill Value
The value of these dollar bills is determined by their grade.
A circulated FRN that is of any value is usually graded VF (Very Fine) or EF (Extremely Fine). These bills will be reasonably crisp with no tears or damage.
They should also have limited fold marks in the surface and are worth about $25.
A lesser quality FRN would be graded Fair to Fine and these are not usually valued higher than the face value of $20.
Uncirculated (UNC) or Crisp Uncirculated (CU) are brand new notes that have no signs of wear or damage and have sharp corners and are valued at around $30-$40.
A GEM graded FRN is of exceptionally high quality with strong embossing, wide margins and deep colors and these are the most valuable especially when sold at auction.
The 1985 $20 Federal Reserve Note below from the Richmond district is graded Gem Uncirculated 65 EPQ (Exceptional Paper Quality) by PMG (Paper Money Guaranty) and has a solid serial number of E77777777H.
This 1985 20 dollar bill with GEM grading and fancy serial number commanded a sale price of $2,460 at auction on January 25, 2021.

Image Courtesy of Heritage Auctions
Star Notes
Star notes are printed as replacements for faulty bank notes. They can be quite valuable as there are not that many printed compared to regular notes in a series of Federal Reserve Notes.
You can tell it's a star replacement note by looking at the serial number. A small star appears to the right of the number.
You may notice a black seal to the left of the portrait of President Jackson with a C in the middle. This means that this star note was printed for the distributing Federal Reserve Bank of Philadelphia.

Image Courtesy of eBay
1985 20 Dollar Bill Errors
Some of the most valuable $20 dollar bills are actually ones that have errors such as inverted backs, cutting errors, double printing and printing on the back.
Here is an example of an inverted back type II error on a GEM 66 EPQ note from the Cleveland district. It sold for $1920.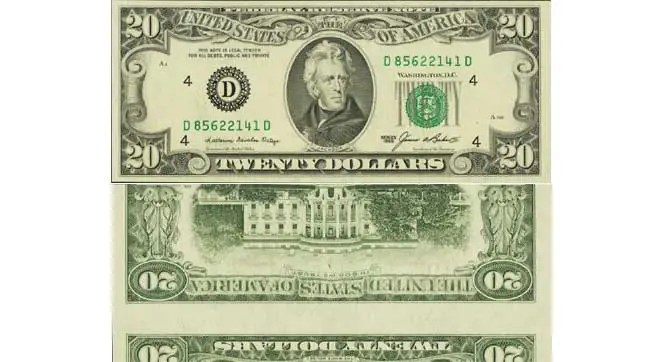 Image Courtesy of Heritage Auctions
Another good example of a 1985 $20 error note is this third printing on back GEM 65 EPQ from the San Francisco district.
You can see that the serial numbers and the seals have been printed on the back instead of the front. This bill sold for $930.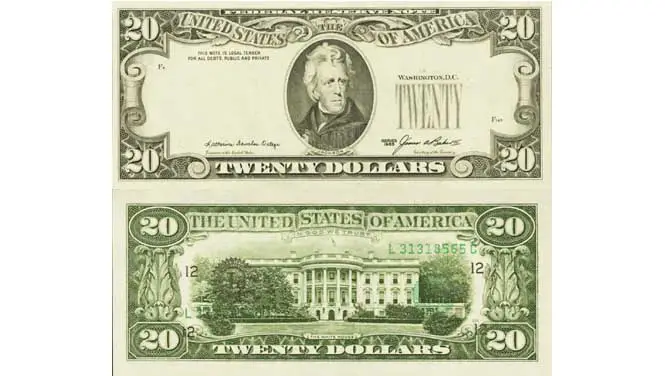 Image Courtesy of Heritage Auctions
The final example is a doubled printing error on the right-hand serial number of this federal reserve note from the Richmond district.
It was graded by PMG as About Uncirculated 50 EPQ and sold for $2640.

Image Courtesy of Heritage Auctions
Return from 1985 20 Dollar Bill to the LostTreasureHq Homepage
Would You Like To Receive More Exciting News And Information About Coin Collecting Direct To Your Inbox?
Subscribe To My Free Newsletter Below!