1913 Wheat Penny Value And How Much This Lincoln Cent Is Worth?
*Image Courtesy of USA Coinbook
The value of the 1913 Lincoln Wheat penny varies greatly relative to its grade, color and where it was minted.
For example, coin values of red colored cents will always be worth more than brown ones and uncirculated coins minted in San Francisco will be more valued by collectors due to their lower mintage that year.
On average the 1913 Lincoln Wheat penny, minted in Philadelphia, is worth $1 in grade G4 condition. The 1913-D variety, minted in Denver, is worth $10 in grade G4 condition and the 1913-S variety, with the San Francisco mint mark, is worth $15 in grade G4 condition.
As the value of Lincoln pennies can vary so much depending on their grade, signs of wear, luster and rarity, let's take a closer look at each type of 1913 penny and discover which varieties of these old pennies are most prized to collectors.
According to the red book the three mints produced around 98,440,200 1913 pennies in total and nearly all are worth more than face value.
1913 Wheat Penny Value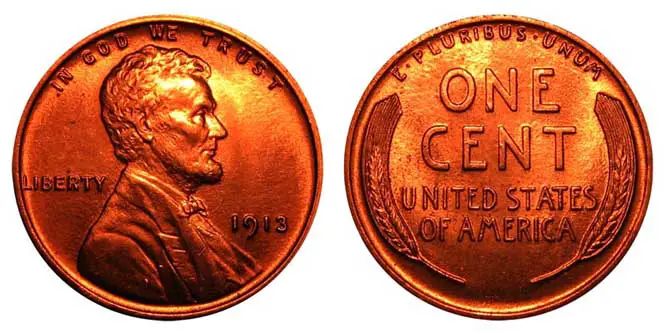 *Image Courtesy of USA Coinbook
Designer: Victor David Brenner (VDB initials)
Metal Composition: 95% Copper - 5% Tin & Zinc
Diameter: 19mm
Weight: 3.11 grams
As you look at the obverse side of the 1913 Lincoln penny you'll notice Lincoln's face pointing to the right.
It also has the date to the bottom right which is clearly visible with the naked eye. At the far left reads the word Liberty.
On the reverse side is two stalks of wheat, and the denomination One Cent, which is why the coins are often referred to as wheat heads.
At the top center it reads 'e pluribus unum' which loosely translated from Latin as One From Many.
Judging The Condition Of The 1913 Wheat Penny
The value of this nice coin varies mainly due to its coloration and condition or grade.
There are usually three colors when it comes to US cents. Red, Red/Brown and Brown. Red is usually the most valued and Brown the least.
According to PCGS (Professional Coin Grading Services), a 1913 wheat back penny produced in Philadelphia (no mint mark) is worth between $1 and $41,000 depending on grade and coloring.
For example, a circulated coin with grade Good condition (G4) with very few contact marks or surface scratches and stains would be worth $1 and an uncirculated Mint State (MS67+) Red, $41,000.
An estimate of some of the other Lincoln penny values include Fine grade (F12) $3, Extremely Fine grade (EF40) $16, Mint State (MS60) $42 and (MS65) $350.
As you might have noticed, MS67+ Red cents are very rare regardless of the year, making them more desirable and commanding a premium price due to their mint condition.
In 1913 there were 76,532,352 regular Lincoln pennies produced at the Philadelphia mint and approximately 2,848 proof coins.
The Philadelphia mint was the only facility that produced proof cents that year.
The record selling price for a regular 1913 wheat penny graded MS67 and minted in Philadelphia is $47,150 which was achieved June 2008 by Bowers & Merena auctioneers.
It was bought and added to the P.F. Flyer Collection of valuable coins.
The highest selling price for a proof cent, with perfect squared off rims, from the same year and produced in Philadelphia is $32,700.
It is graded PR67 and was also sold by Bowers & Merena auctioneers March 2009.
There were no known error coin varieties produced in Philly that year, although some do exist and are put up for sale occasionally.
Some errors you might find in circulation from the striking process are Doubled Die, Off Center Strikes, Clipped Planchet, etc., which command premium coin values compared to other coins with wheat stalks in uncirculated condition.
1913-D Wheat Penny Value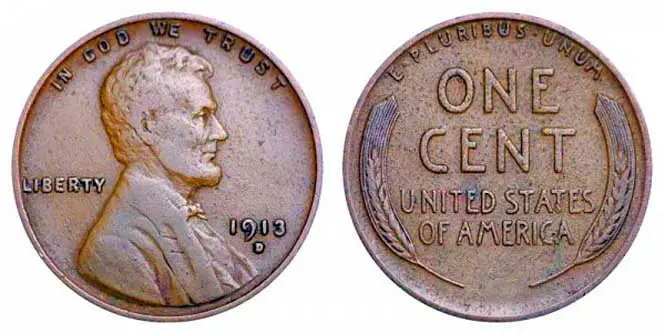 *Image Courtesy of USA Coinbook
There were around 15,804,000 1913-D Lincoln pennies produced in Denver.
These coins are worth between $3 and $19,000 depending on their grade and color.
MS66+ Red is the highest known grade for a cent with a D mint mark from that year due to the fact that no proof coins were created.
Due to the smaller number of these Lincoln's appearing in circulation, even the lower grade specimens have higher coin values than other Lincoln cents.
A Good condition (G4) is worth around $3, a Fine condition (F12) $10, an Extremely Fine condition (EF40) $45, Mint State (MS60) $165 and (MS65) $850.
A top auction price was set June 2017 at Stack's Bowers Galleries when a MS66+ Red 1913 D change hands for $23,500.
There are no known errors from Denver that year, although some have been found whilst checking pocket change from time to time.
An AU50 graded example was sold by Heritage Auctions 10th September 2019 for $690.
It was a strike error and was struck 15% Off Center.
1913-S Wheat Penny Value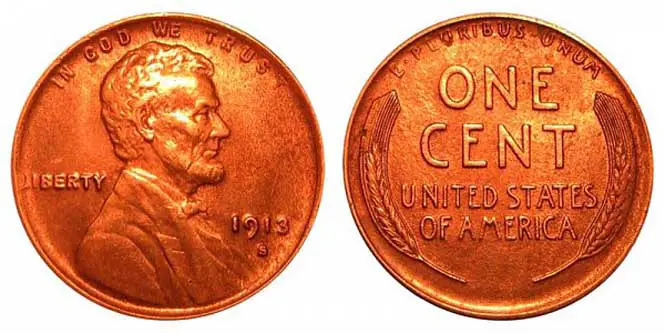 *Image Courtesy of USA Coinbook
The lowest number of cents produced that year were from San Francisco.
Around 6,101,000 1913-S coins were created and they are the most treasured of all the 1913 Lincoln Wheat pennies to coin collectors due to their low mintage figure.
For example, a G4 grade would be worth $15 while an uncirculated condition MS66 Red would be valued at $26,000.
Other grades and their values include (F12) $26, (EF40) $55, (MS60) $225 and (MS65) $1850. Again, no proof coins were made with S mint marks that year.
The highest price paid for a 1913-S mint mark was set at $63,250.
This sale took place Jan 5th, 2006, at Heritage Auctions for this superb looking MS66 Red semi-key date example.
Lincoln Wheat Cents 1909 - 1958
1909, 1910, 1911, 1912, 1913, 1914, 1915, 1916, 1917, 1918, 1919, 1920, 1921, 1922, 1923, 1924, 1925, 1926, 1927, 1928, 1929, 1930, 1931, 1932, 1933, 1934, 1935, 1936, 1937, 1938, 1939, 1940, 1941, 1942, 1943, 1944, 1945, 1946, 1947, 1948, 1949, 1950, 1951, 1952, 1953, 1954, 1955, 1956, 1957, 1958.
*Image Credit: USA Coinbook
Would You Like To Receive More Exciting News And Information About Coin Collecting Direct To Your Inbox?
Subscribe To My Free Newsletter Below!