Is Your 1946 Wheat Penny Worth $15000?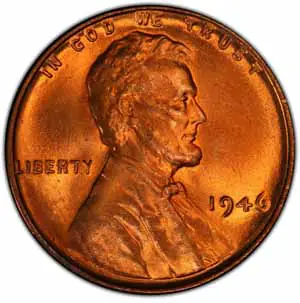 Have you ever wondered what your 1946 Wheat penny is made of? The 1946 penny is the last year in a batch of 'shell case cents' minted during World War 2.
These Lincoln pennies were given this name because they were made from a bronze composition consisting of 95% copper and 5% zinc. Other years had a 5% zinc and tin composition mixed with the copper.
No tin was used in 1946 pennies due to the war effort needing the tin for ammunition. Other years referred to as 'shell case pennies' include 1944 and 1945. Normal bronze composite production returned one year later in 1947.
You can notice a slight difference in color due to this amended metal composite more often in mint state uncirculated pennies.
This US coin was designed by engraver Victor D Brenner and weighs 3.11 grams with a diameter of 19mm.
Is a 1946 penny rare?
During 1946, there were approximately 991,655,000 coins produced in Philadelphia, 315,690,000 in Denver and 198,100,000 in San Francisco.
Unfortunately there were no proof coins stuck in 1946 as all extra resources which weren't being used for making coins for circulation were used for making medals for hero soldiers returning home from war.
Due to the vast amount of wheat pennies being minted that year, they are not rare at all. You may even find one of these coins in reasonable condition mixed in with your change while out shopping.
Is a 1946 wheat penny valuable?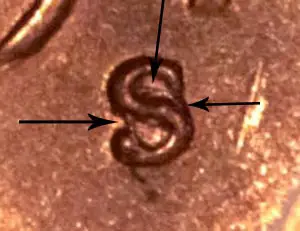 Some of the 1946 Lincoln wheat pennies that are rare and have value are the coins with errors.
For example, an uncirculated coin with a S over D mint mark error can fetch around $250 in good condition. An auction record price was set in 2019 for a S over D MS66+RD of $3,173.
Other rare versions of the 1946 Lincoln wheat penny include coins that have been stuck off-center and also coins with repunched mint marks (RPM).
An off-center AU58 coin from Philadelpha sold for $50, while a MS64 Red RPM from Denver is worth around $60 and a MS64RD from San Francisco is worth similar.
Where is the mint mark on a 1946 wheat penny?
You can find the mint mark of your 1946 Lincoln wheat penny on the obverse side of the coin. It is located just to the right of the bust of Abraham Lincoln and below the date.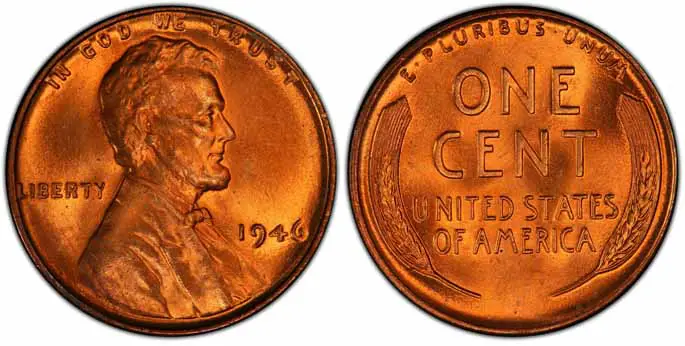 If you have a coin without a mint mark, it means it was struck in Philadelphia. If it has a 'D' below the date it was produced in Denver. A 'S' means it was struck in San Francisco.
Also on the obverse is the word LIBERTY to the left center of the bust and the words IN GOD WE TRUST written at the top center.
On the reverse of this Lincoln wheat penny is two stalks of wheat giving it the name 'wheat back'. At the top center is written 'E PLURIBUS UNUM' and in the middle it reads ONE CENT with UNITED STATES OF AMERICA below.
How much is a 1946 wheat penny worth today?
If you have a coin produced in either Denver or San Francisco ( D or S), then it is worth anything from its face value to about $2.17 for a MS63.
For higher graded coins, the value will increase. The more red the coin, the better.
A record auction price of $6,169 was achieved for an uncirculated 1946-S MS67+RD, while an uncirculated 1946-D MS67+RD sold for $2,585.
How much is a 1946 wheat penny worth with no mint mark?
A 1946 Lincoln penny minted in Philadelphia with no mark will also be worth anything from face value to $2.17 for a MS63 depending on the condition and color.
A record auction price for this type of uncirculated coin was set in 2006 when $14,950 was paid for a MS67RD graded by PCGS.
1946 Steel Penny
There were no official steel wheat pennies produced in 1946. The steel version of this united states Lincoln coin was only ever made during 1943 and is reasonably valuable.
During 1946 an error was made in Denver when a 'wheatie' was struck on a 10 Cent planchet.
This produced a silver colored coin that weighed about 2.53 grams instead of the standard 3.11 grams and was in slightly damaged condition due to the striking process.
Even so, the AU50 coin sold for around $400 and is believed to be one of a kind.
Image Source: USACoinBook
More Lincoln Wheat Cents 1909 - 1958
1909, 1910, 1911, 1912,1913, 1914, 1915, 1916, 1917, 1918, 1919, 1920, 1921, 1922, 1923, 1924, 1925, 1926, 1927, 1928, 1929, 1930, 1931, 1932, 1933, 1934, 1935, 1936, 1937, 1938, 1939, 1940, 1941, 1942, 1943, 1944, 1945, 1946, 1947, 1948, 1949, 1950, 1951, 1952, 1953, 1954, 1955, 1956, 1957, 1958.
Discover more about coin hunting and metal detecting at Lost Treasure HQ
Would You Like To Receive More Exciting News And Information About Coin Collecting Direct To Your Inbox?
Subscribe To My Free Newsletter Below!