2004 Roger Bannister 50p Coin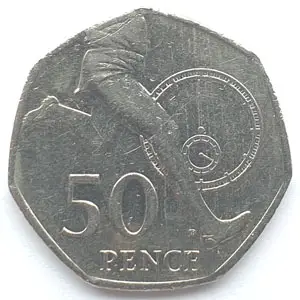 The Roger Bannister 50p was designed and created in 2004 to celebrate the 50th anniversary of the world record breaking achievement of Sir Roger Bannister who ran the first sub four minute mile.

The 50 pence piece, commissioned by the Royal Mint, was designed by James Walter Butler MBE RA who is a renowned British sculptor and artist.

James also designed the Royal Seal of the Realm and the Jubilee coin.
How Rare Is The Roger Bannister 50p?
There were 9,032,500 minted in 2004 making this one of the most popular commemorative fifty pence coins available.

If you check your change on a regular basis, you are quite likely to come across one sooner or later.

Better still, if you go to your local bank and request a £250 bag of fifty pence pieces, you stand a good chance of finding one.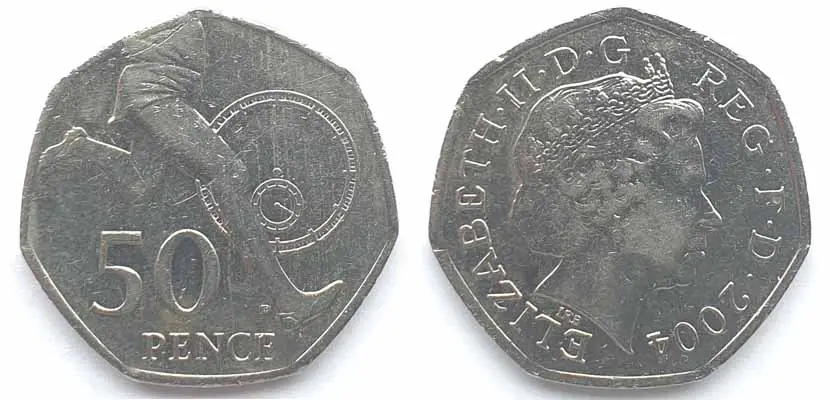 The reverse of the coin displays an image of a runner's legs, presumed to be Sir Roger's as he runs and a stopwatch to the top right stopped at 3:59.4. Beneath the runner is written 50 PENCE.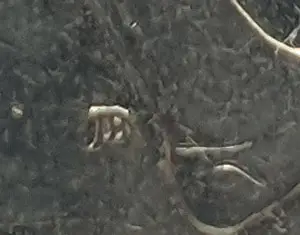 If you look carefully to the left of the running shoe, you will see the initials JB for James Butler, the designer.
On the obverse of the coin is the crowned bust of Elizabeth II.

The initials, IRB, of the designer Ian Rank Broadley can be seen to the left of the bust.

Around the edge is written 'D.G.REG.F.D' and the date 2004. These letters appearing after the Elizabeth II are short for Dei Gratia Regina Fidei Defensor which is Latin.

This translates as 'By the Grace of God, Queen, Defender of the Faith'.

It has a plain edge, weighs 8 grams, has a diameter of 27.3mm and a thickness of 1.78mm. It's made from a Cupro-nickel composite of 75% copper and 25% nickel.
How Much Is The Roger Bannister 50p Worth?
This fifty pence piece is worth about £0.80-£2.50 for a circulated coin depending on the condition.

You can find an uncirculated 2004 version of the anniversary coin for around £11 on eBay. Be careful when buying though as there is also a 2019 version which people are selling online.

Do you have a 22 carat Gold Proof Roger Bannister 50p? The Royal Mint also produced other versions of this coin. They minted twelve hundred and fifty Gold Proof coins, fifteen thousand Silver Proof and seven and a half Silver Proof Piedfort for the more serious collectors.

You can still buy the Gold Proof for about £1100 from the Royal Mint.
What Is Sir Roger Famous For?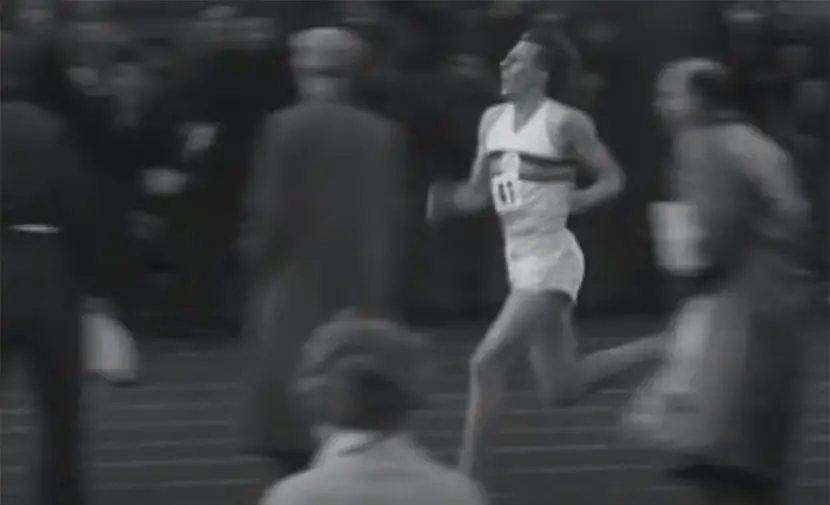 On May 6th, 1954, he became the first person in the world to run a mile in under four minutes. He recorded a time over the mile distance of 3 minutes and 59.4 seconds at Iffley Road track in Oxford.

Although he was first to run a mile in under 4 minutes, his Guinness world record only lasted 46 days.

His biggest running rival Landy ran a sub four minute mile in Finland with a time of 3 minutes 57.9 seconds.
What Did Roger Bannister Die Of?
Sir Roger Bannister lived until he was 88 had a great career in medicine as well as athletics, however he sadly died on 3rd March 2018 in Oxford after being diagnosed with Parkinson's disease in 2011.
What Is The Fastest Mile Ever Ran?
More athletes have went on to better both Bannister and Landy's mile completion time, with Hicham El Guerrouj being the current fastest male to achieve a sub four minute mile with a time of 3:43.13.

Unfortunately no female has ever run a mile in under four minutes, but the closest has been Sifan Hassan with a time of 4:12.33.
Return to Lost Treasure HQ from Roger Bannister 50p and learn even more about collecting coins.
Would You Like To Receive More Exciting News And Information About Coin Collecting Direct To Your Inbox?
Subscribe To My Free Newsletter Below!